Expecting $4.38bn cash NPAT, 162¢ interim dividend
CBA's result will come out on Wednesday 9 February 2022 and our forecasts are: 1) statutory NPAT $4.68bn; 2) cash NPAT (including discontinued operations and oneoffs) $4.38bn; 3) cash EPS (including discontinued operations and one-offs) 247¢; 4) cash NPAT (continuing operations) $4.38bn; 5) cash EPS (continuing operations) 247¢; 6) interim dividend 162¢ fully franked (payout ratio 66%); 7) ROE (continuing operations) 11.4%; 8) NIM (continuing operations) 1.93%; 9) loan impairment expense (LIE) $0.32bn/8bp GLA; and 10) CET1 ratio 11.4%.
We forecast 1H22 cash NPAT of $4.38bn with no change in the number after excluding notable items. This is roughly double that of $2.20bn actual in 1Q22, so no surprises here – operating income down 1% but flat excluding AHL and operating expense down 1%. Excluding notable items, operating income (vs. 1H21) grew by 0.2% but was surpassed only by operating expense growth of 2.4% (including notable items, this was however a better bet at +0.2% and -2.0% respectively). The mix was the other way around in relation to 2H21, being 1.7% lower in operating income but a better cost outcome of only 0.8%. Loan impairment expense may have been negative in 2H21 but 1Q22 showed a slight expense of $105m or only 5bp, helped by a broadly unchanged credit provision. Overall, the changes were evenly matched leading to a doubling in cash earnings in the first quarter.
$108.00 price target but rating is now a Hold
One major change lies in FY22 forecast numbers, having reduced cash earnings by 6%. This is based on 3% lower operating income (mainly NIM down by 5bp to 1.94%) and slightly higher operating expense of 2%. As for FY24 and beyond, the changes are positive with higher income (and lower loan impairment expense in FY25) that more than offset higher expenses. Net of minor changes in the composite valuation, we have upped the valuation and price target to $108.00. Based on a 12-month TSR of less than 15%, we have however shifted the rating from Buy to Hold.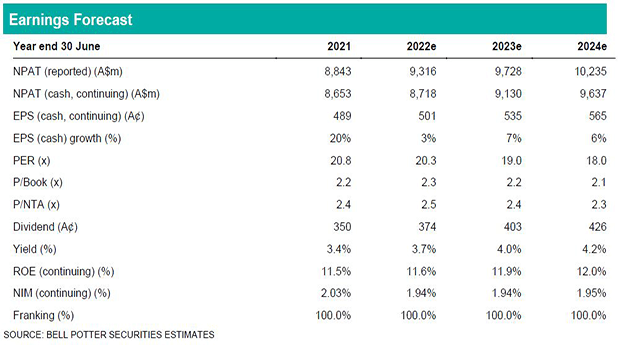 Authored by TS Lim – Analyst – at Bell Potter Securities, 12 January 2022
Important Disclaimer—This may affect your legal rights: Because this document has been prepared without consideration of any specific client's financial situation, particular needs and investment objectives, a Bell Potter Securities Limited investment adviser (or the financial services licensee, or the proper authority of such licensee, who has provided you with this report by arrangement with Bell Potter Securities Limited) should be consulted before any investment decision is made. While this document is based on the information from sources which are considered reliable, Bell Potter Securities Limited, its directors, employees and consultants do not represent, warrant or guarantee, expressly or impliedly, that the information contained in this document is complete or accurate. Nor does Bell Potter Securities Limited accept any responsibility to inform you of any matter that subsequently comes to its notice, which may affect any of the information contained in this document. This document is a private communication to clients and is not intended for public circulation or for the use of any third party, without the prior approval of Bell Potter Securities Limited. In the USA and the UK this research is only for institutional investors. It is not for release, publication or distribution in whole or in part to any persons in the two specified countries. This is general investment advice only and does not constitute advice to any person.
Disclosure of Interest: Bell Potter Securities Limited receives commission from dealing in securities and its authorised representatives, or introducers of business, may directly share in this commission. Bell Potter Securities and its associates may hold shares in the companies recommended.