WOW unable to make the numbers stack up
Following completion of due diligence the WOW Board has decided to withdraw its cash bid for API. The bid, which was highly conditional and non-binding, had the support of the API Board. API will now proceed with the WES bid at $1.55 (less the 2 cps final dividend).
The notice from WOW withdrawing the bid is brief on detail citing only that the company had not been able to validate the financial return it requires. Fair enough, however, one wonders what, if anything, was uncovered during the due diligence process that led to this conclusion. The key risks in the transaction related to the ACCC sign off, WOW's future interaction with the Pharmacy Guild and the 19.3% blocking stake held by Wesfarmers. These should have been identified prior to the bid and the due diligence exercise itself should have been relatively straight forward.
The WOW bid valued API at ~$1.01bn (Enterprise value) which implied a year 1 return on invested capital (based on BPe for FY23) of ~7% before any synergy savings or other value add. So why did WOW and before them SIG pull out? In SIG's case it is not unreasonable to assume its internal management issues (which have since emerged) were a contributing factor, while for WOW the potential of a modest 7% return on capital combined with a likely protracted period of less than 100% ownership of API may have contributed. WOW may have been required to pursue a messy takeover bid rather than the more efficient Scheme of Arrangement (SoA). All of these factors were in plain sight at the time of the WOW bid announcement, hence API investors can quite rightly only ponder the motivation of the ill fated WOW bid.
Investment View: Retain Hold, Price Target reduced to $1.53
No changes to earnings. Price target reduced to $1.53 matching the WES cash offer (after the 2 cps final dividend). If anything the episode highlights the superior strategy of the WES group in establishing its 19% holding prior to going to public with its bid. We now expect the WES Scheme meetings to proceed later this quarter. The WES bid remains subject to ACCC sign off and the normal SoA approvals.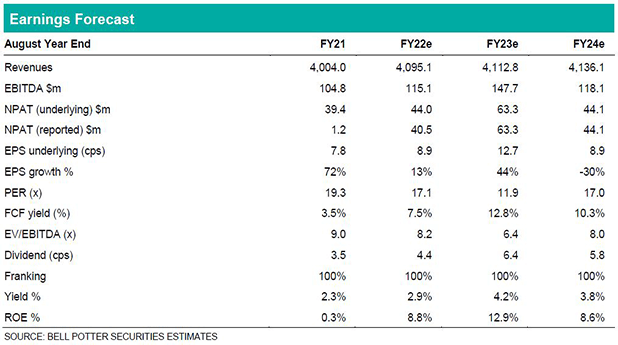 Authored by John Hester – Analyst – at Bell Potter Securities, 7 January 2022
Important Disclaimer—This may affect your legal rights: Because this document has been prepared without consideration of any specific client's financial situation, particular needs and investment objectives, a Bell Potter Securities Limited investment adviser (or the financial services licensee, or the proper authority of such licensee, who has provided you with this report by arrangement with Bell Potter Securities Limited) should be consulted before any investment decision is made. While this document is based on the information from sources which are considered reliable, Bell Potter Securities Limited, its directors, employees and consultants do not represent, warrant or guarantee, expressly or impliedly, that the information contained in this document is complete or accurate. Nor does Bell Potter Securities Limited accept any responsibility to inform you of any matter that subsequently comes to its notice, which may affect any of the information contained in this document. This document is a private communication to clients and is not intended for public circulation or for the use of any third party, without the prior approval of Bell Potter Securities Limited. In the USA and the UK this research is only for institutional investors. It is not for release, publication or distribution in whole or in part to any persons in the two specified countries. This is general investment advice only and does not constitute advice to any person.
Disclosure of Interest: Bell Potter Securities Limited receives commission from dealing in securities and its authorised representatives, or introducers of business, may directly share in this commission. Bell Potter Securities and its associates may hold shares in the companies recommended.