Quarterly production and revenues weaker
BPT reported quarterly production of 5.2MMboe (BPe 5.4MMboe), down 8% QoQ, driven by major producing assets performing below expectations, particularly at Western Flank (impacted by flooding) and the Victorian Otways (wells experiencing faster than expected field decline and a legacy well ceasing production). The weaker production, a timing revision relating to revenue recognition for CBJV sales and weaker realised energy prices resulted in lower headline quarterly revenues. Adjusting for the accounting change, pro forma quarterly revenues were in line with our estimate (BPe $438m). At quarter-end, BPT maintained a net cash position of $38m ($165m at 30 June 2022) and available liquidity was $638m ($765m at 30 June 2022).
EPS revisions reflect changes to our oil price and FX outlook, production assumptions and operating and capital cost estimates: FY23 -1%; FY24 3%; and FY25 2%.
Growth projects on track despite apparent risks
The Waitsia development expansion (from 20TJ/day to 270TJ/day, gross) remains on track for completion before BPT's first LNG sales target in 2H 2023. This indicative development timeline is despite a number of apparent construction risks impacting Western Australian projects including materials price inflation and supply chain disruptions (though reportedly easing). Recent media reports have highlighted Clough, the engineering, procurement and construction contractor for the Waitsia expansion, is facing working capital shortfalls. Production ramp-up at Victorian Otways is BPT's other major near-term catalyst, with 5 new wells coming online by mid-2023.
Investment thesis: Buy, Target Price $2.20/sh (prev.$2.30/sh)
BPT has a strong, fully funded energy production growth outlook. This production growth is diversified across five energy basins and across four separate gas markets, including the global LNG trade. The company should benefit from tightening east coast gas markets and international LNG markets flowing through to higher realised prices. BPT is trading at lower earnings multiples compared with its ASX-listed peers.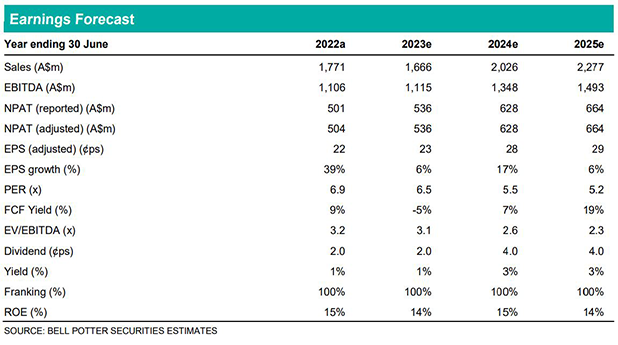 Authored by Stuart Howe & Joseph House – Analysts – at Bell Potter Securities, 19 October 2022
Important Disclaimer—This may affect your legal rights: Because this document has been prepared without consideration of any specific client's financial situation, particular needs and investment objectives, a Bell Potter Securities Limited investment adviser (or the financial services licensee, or the proper authority of such licensee, who has provided you with this report by arrangement with Bell Potter Securities Limited) should be consulted before any investment decision is made. While this document is based on the information from sources which are considered reliable, Bell Potter Securities Limited, its directors, employees and consultants do not represent, warrant or guarantee, expressly or impliedly, that the information contained in this document is complete or accurate. Nor does Bell Potter Securities Limited accept any responsibility to inform you of any matter that subsequently comes to its notice, which may affect any of the information contained in this document. This document is a private communication to clients and is not intended for public circulation or for the use of any third party, without the prior approval of Bell Potter Securities Limited. In the USA and the UK this research is only for institutional investors. It is not for release, publication or distribution in whole or in part to any persons in the two specified countries. This is general investment advice only and does not constitute advice to any person.
Disclosure of Interest: Bell Potter Securities Limited receives commission from dealing in securities and its authorised representatives, or introducers of business, may directly share in this commission. Bell Potter Securities and its associates may hold shares in the companies recommended.