AX1 announced a strong FY21 result, with FY21 EBIT lifting 31.8% to $124.9m, 2.7% ahead BPe $121.6m. The strong result was driven by: 1) 8.3% like-for-like (LFL) sales growth; 2) online sales lifting 48.5%; 3) 30bps gross margin expansion; 4) operating leverage benefits; and 5) strong store rollout progress with 83 net openings. Note, the FY21 result includes the net benefit of wage subsidies in 1Q21 of $9.4m.
…although lockdowns materially impacting 1H22
COVID restrictions/lockdowns in July/August have had a material impact, as follows:
Trading update for first 7 weeks: LFL sales (incl. store closures) down -16% (cycling +1.3%). Online providing some cushion to lost in-store sales, although at a reduced extent vs last year (noting Jobkeeper stimulus buoyed sales last year). Group EBIT impact of at least -$15m: Noting this is for July and August alone.
Inventory position on the 'heavy side', but a fortunate position given supply chain risks: AX1 exited FY21 with $217m in inventory, which we est. to be $30m on the 'heavy side', although AX1 noted the inventory is new/on-season product. Lockdowns will slow the rebalance of stock levels, which is seeing promotions increase; although at the same time we believe having excess inventory is a preferred position ahead of the key Dec quarter given global supply chain risks.
Solid balance sheet to navigate difficult backdrop, with modest leverage ratio of 0.4x at end-FY21. Landlord negotiations, round 2: AX1 flagged it is in the process of engaging with landlords (like last year) to determine appropriate rent terms during lockdowns, thereby containing 1H22 rent cash outlay to a fair level.
Earnings changes & Investment View: Retain Buy, PT $2.90
We have cut our 1H22 estimates to reflect lockdown impacts. The net effect is our FY22 EPS falls by -21%, although there is no material change in FY23/FY24. Including model roll-forward, our 12-month price target reduces to $2.90 (previously $3.30). Notwithstanding the material near-term lockdown impacts, the underlying fundamentals of the business remain strong and attractive. We retain our Buy rating on the stock.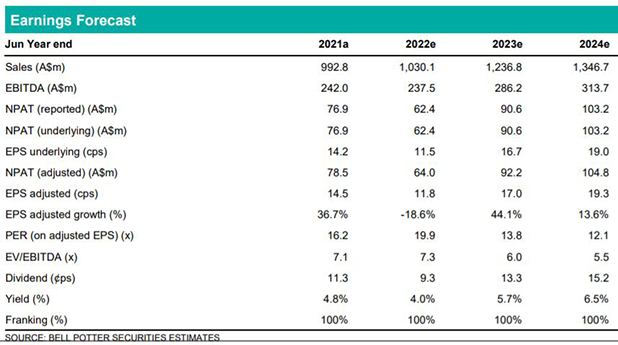 Authored by Sam Haddad – Analyst – at Bell Potter Securities, 19 August 2021
Important Disclaimer—This may affect your legal rights: Because this document has been prepared without consideration of any specific client's financial situation, particular needs and investment objectives, a Bell Potter Securities Limited investment adviser (or the financial services licensee, or the proper authority of such licensee, who has provided you with this report by arrangement with Bell Potter Securities Limited) should be consulted before any investment decision is made. While this document is based on the information from sources which are considered reliable, Bell Potter Securities Limited, its directors, employees and consultants do not represent, warrant or guarantee, expressly or impliedly, that the information contained in this document is complete or accurate. Nor does Bell Potter Securities Limited accept any responsibility to inform you of any matter that subsequently comes to its notice, which may affect any of the information contained in this document. This document is a private communication to clients and is not intended for public circulation or for the use of any third party, without the prior approval of Bell Potter Securities Limited. In the USA and the UK this research is only for institutional investors. It is not for release, publication or distribution in whole or in part to any persons in the two specified countries. This is general investment advice only and does not constitute advice to any person.
Disclosure of Interest: Bell Potter Securities Limited receives commission from dealing in securities and its authorised representatives, or introducers of business, may directly share in this commission. Bell Potter Securities and its associates may hold shares in the companies recommended.