The recent reporting season highlighted an inventory unwind in agricultural chemicals markets and strong pricing growth in competing products for NUF's Omega-3 product.
Quarterly reporting and sector flows: 3Q23 revenues (AUD terms) in NUF core markets contracted -15% YOY, with signs of an inventory unwind in the supply chain (value of ag-chem imports down -20% YOY into NUF markets). Pricing outcomes were benign despite deteriorating active ingredient price. On the latter we note China glyphosate technical pricing has rallied ~40% from the lows.
Omega 3 pricing indicators: Omega 3 grade fishoil pricing rose +80% YOY to US$8,150/t, well ahead of the YOY uplift seen in Peruvian fishmeal. NUF competitor Corbion reported +135% YOY growth in its Algae Ingredients platform, with +34% YOY pricing growth in the quarter.
Seasonal drivers: Late harvest rainfall in the EU could be beneficial for late season insecticide demand. Australian winter crop production is forecast to fall -34% YOY and the area planted to summer crops is expected to fall -15% YOY. North America remains dry with the US crop condition trailing a year ago and 67% of the Canadian agricultural landscape is classified as abnormally dry.
There are no changes to our forecasts in this report. We had previously downgraded our NUF forecasts (see: "Peer pressure" (10/08/23)) to reflect softer sector wide 3Q23 sales trends. Our $7.00ps target price is also unchanged in this report.
Investment view: Buy rating unchanged
There is no change to our Buy rating. The late season in North America and inventory destocking in the channel appeared to be industry wide headwinds in 2QCY23e. However, a reversal of these trends in FY24e along with growth in the beyond yield program are likely to see a reasonable rebound in earnings in FY24e and lay the platform for growth in FY25-26e. The rapid price growth in omega-3 products is an ongoing positive development for potential market uptake of NUF's Aquaterra product.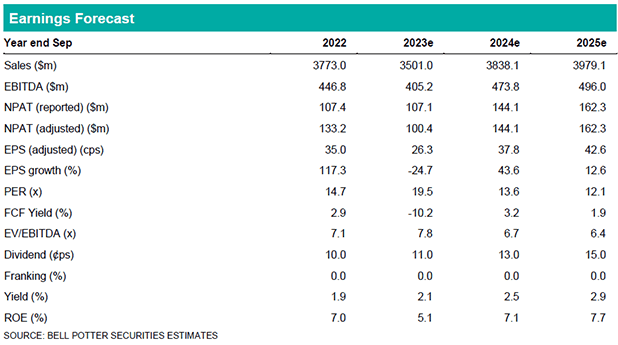 Authored by Jonathan Snape – Analyst – at Bell Potter Securities, 11 September 2023
Important Disclaimer—This may affect your legal rights: Because this document has been prepared without consideration of any specific client's financial situation, particular needs and investment objectives, a Bell Potter Securities Limited investment adviser (or the financial services licensee, or the proper authority of such licensee, who has provided you with this report by arrangement with Bell Potter Securities Limited) should be consulted before any investment decision is made. While this document is based on the information from sources which are considered reliable, Bell Potter Securities Limited, its directors, employees and consultants do not represent, warrant or guarantee, expressly or impliedly, that the information contained in this document is complete or accurate. Nor does Bell Potter Securities Limited accept any responsibility to inform you of any matter that subsequently comes to its notice, which may affect any of the information contained in this document. This document is a private communication to clients and is not intended for public circulation or for the use of any third party, without the prior approval of Bell Potter Securities Limited. In the USA and the UK this research is only for institutional investors. It is not for release, publication or distribution in whole or in part to any persons in the two specified countries. This is general investment advice only and does not constitute advice to any person.
Disclosure of Interest: Bell Potter Securities Limited receives commission from dealing in securities and its authorised representatives, or introducers of business, may directly share in this commission. Bell Potter Securities and its associates may hold shares in the companies recommended.