NAB has announced the completion of its $2.5bn on-market share buy-back. In addition, it has also announced a further buy-back of up to $2.5bn. The total combined size is therefore $5.0n. This will enable NAB to manage its CET1 capital ratio towards the target range of 10.75-11.25%. The bank expects to commence the latest buy-back following its 1H22 result, subject to market conditions. The capital management strategy reflects its strong balance sheet, further saying "…the further $2.5bn onmarket buy-back announced today supports our ambition to reduce share count and increase sustainable ROE benefits for our shareholders".
APRA's Unquestionably Strong CET1 benchmark remains at 10.5%. While the reported ratio is at 12.4% at the end of December 2021, the further buy-back will reduce the Group's CE1 ratio by roughly 58bp. Pro-forma including other adjustments, CET1 ratio is 11.3% and the movements include: 1) shares bought back and cancelled -32bp; 2) proposed acquisition of the Citigroup Australian consumer business -31bp; 3) BNZ divestment +6bp; and 4) further proposed buy-back of $2.5bn -58bp. This is subject to timing and number of shares purchased.
Price target increased to $34.50, Buy rating maintained
NAB's cash earnings are increased by 3% from FY25e, mainly due to higher net interest income (up to 1% from FY25e) and even higher other banking income (3-12% in FY23e through to FY25e from reversion back to normalcy especially in business/private and corporate/institutional banking). These are offset to some extent by higher credit impairment charges (by up to 15bp – previously 12bp – in FY25e). In addition to lower dividend valuation yield of 3.75% (discount rate is maintained), the price target is therefore increased by $2.00 to $34.50. NAB's Buy rating is retained.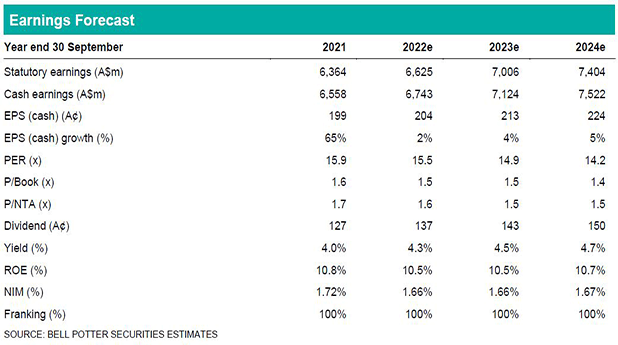 Authored by TS Lim – Analyst – at Bell Potter Securities, 24 March 2022
Important Disclaimer—This may affect your legal rights: Because this document has been prepared without consideration of any specific client's financial situation, particular needs and investment objectives, a Bell Potter Securities Limited investment adviser (or the financial services licensee, or the proper authority of such licensee, who has provided you with this report by arrangement with Bell Potter Securities Limited) should be consulted before any investment decision is made. While this document is based on the information from sources which are considered reliable, Bell Potter Securities Limited, its directors, employees and consultants do not represent, warrant or guarantee, expressly or impliedly, that the information contained in this document is complete or accurate. Nor does Bell Potter Securities Limited accept any responsibility to inform you of any matter that subsequently comes to its notice, which may affect any of the information contained in this document. This document is a private communication to clients and is not intended for public circulation or for the use of any third party, without the prior approval of Bell Potter Securities Limited. In the USA and the UK this research is only for institutional investors. It is not for release, publication or distribution in whole or in part to any persons in the two specified countries. This is general investment advice only and does not constitute advice to any person.
Disclosure of Interest: Bell Potter Securities Limited receives commission from dealing in securities and its authorised representatives, or introducers of business, may directly share in this commission. Bell Potter Securities and its associates may hold shares in the companies recommended.