AGM update: Asia consistent growth continues, ANZ steady
At its AGM, IPH provided an overall positive trading update for the first four months to 31 October (FYTD). IPH has achieved growth in underlying like-for-like (LFL) EBITDA vs pcp driven by performance in Asia, moderated partially by the short-term impact of the Shelston IP – Spruson & Ferguson integration in Australia. Key highlights include:
Asia strong organic like-for-like (LFL) growth continues: IPH's Asia business has continued its strong performance and delivered positive FYTD LFL EBITDA growth vs pcp. Patent filings are up strong across the region including: Singapore (CY to end-Aug'21) up 23.1%; Asia ex. Singapore (to end-Sep'21) up 20.2%; and China experiencing "solid growth". These strong patent filing numbers bode well for Asia's EBITDA outlook, as filings progress to patent examination work flow.
ANZ solid overall, with Griffith Hack achieving a strong recovery: IPH's ANZ LFL EBITDA is steady vs pcp, reflecting the short-term impacts of the Shelston IP / Spruson & Ferguson integration. After filings contracted last year (Griffith Hack /
Watermark integration + COVID disruptions), Australian 1Q22 fillings rebounded +8.7% vs pcp. A key highlight is the recovery in Griffith Hack's market share, with FYTD filings up +29.7%, confirming integration impacts in the pcp were one-off.
Shelston IP / Spruson & Ferguson Australia integration expected to realise $2.0-$2.5m in synergies: Shelston IP combined under the Spruson & Ferguson brand from 1 November with full systems integration to occur in December. IPH estimate synergies of $2.0-$2.5m p.a. will be realised, with a further cost savings on rent of ~$1m assuming the Shelston premises will be subleased. $1.0-$1.25m of EBITDA savings & ~$0.25m of rent costs are expected to be achieved in FY22.
Earnings changes & Investment view: Retain Buy, PT $10.35
The lift in fillings bodes well for IPH's outlook & accordingly we have strengthened our medium/long-term forecasts (mostly in Asia). No material FY22-FY24 EPS changes, although our longer term EPS est. increase. Including time-creep our PT increases to $10.35 (previously $9.90). IPH continues to deliver resilient through-the-cycle growth, underpinned by a quality client base, geographic diversification and a flexible business model. Plus there is upside from potential acquisitions. We retain our Buy rating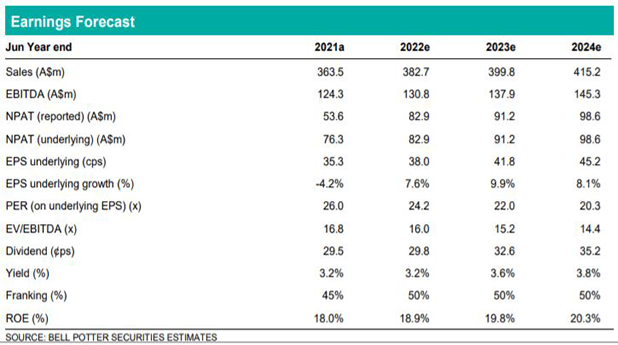 Authored by Sam Haddad – Analyst – at Bell Potter Securities, 18 November 2021
Important Disclaimer—This may affect your legal rights: Because this document has been prepared without consideration of any specific client's financial situation, particular needs and investment objectives, a Bell Potter Securities Limited investment adviser (or the financial services licensee, or the proper authority of such licensee, who has provided you with this report by arrangement with Bell Potter Securities Limited) should be consulted before any investment decision is made. While this document is based on the information from sources which are considered reliable, Bell Potter Securities Limited, its directors, employees and consultants do not represent, warrant or guarantee, expressly or impliedly, that the information contained in this document is complete or accurate. Nor does Bell Potter Securities Limited accept any responsibility to inform you of any matter that subsequently comes to its notice, which may affect any of the information contained in this document. This document is a private communication to clients and is not intended for public circulation or for the use of any third party, without the prior approval of Bell Potter Securities Limited. In the USA and the UK this research is only for institutional investors. It is not for release, publication or distribution in whole or in part to any persons in the two specified countries. This is general investment advice only and does not constitute advice to any person.
Disclosure of Interest: Bell Potter Securities Limited receives commission from dealing in securities and its authorised representatives, or introducers of business, may directly share in this commission. Bell Potter Securities and its associates may hold shares in the companies recommended.