Superannuation and Financial Planning Summary
Last night Treasurer Josh Frydenberg delivered his fourth Budget, with an election on the horizon Frydenberg says the Budget delivers immediate relief to the cost of living, a long-term economic plan that creates jobs, record investments in essential services and stronger defence and national security.
The Budget forecasts the 2022-23 deficit to be $78 billion, or 3.4% of GDP. Over the next three years, this will more than halve to 1.6%. The unemployment rate is also forecast to drop to 3.75% by the September quarter, currently at 4%.
Net debt for the 2021-22 year is $631.5 billion, increasing to $714.9 billion for 2022-23 and by 2025-26 net debt is projected to be $865 billion or 33.1% of GDP.
To respond to immediate cost-of-living pressures the Budget unveiled the cost of living package which includes the following:
Reducing the 44.2c-a-litre fuel excise for six months down to 22.1c, which took effect at midnight on Tuesday.
A one-off, tax-exempt cash payment of $250 to six million pension and welfare recipients during April 2022.
A $420 cost of living tax offset for 10 million low and middle-income earners, that is, those earning under $126,000. When combined with the low-and middle income tax offset (LMITO) eligible Australians will receive $1,500 for a single income or $3,000 for a couple.
Home Guarantee Scheme and new Regional Home Guarantee
The Budget proposed an expansion of the Home Guarantee Scheme adding a specific boost for homebuyers in regional areas.
Each year 10,000 guarantees will be available under the Regional Home Guarantee to support homebuyers, including non-first-time buyers, to build or buy in regional areas.
The original Home Guarantee Scheme will expand to 35,000 places starting 1 July 2022 and there will be 5,000 places available to help single-parent families to purchase with a 2% home loan deposit without incurring lender's mortgage insurance.
Announced pre-budget night and originally intended to provide relief during the COVID market shock, the temporary minimum drawdown rates will continue into the 2022-2023 financial year. The pension minimums will continue as follows: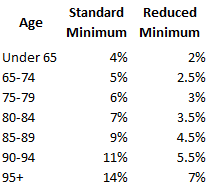 To continue implementing recommendations from the Royal Commission into Aged Care Quality and Safety the Budget committed $468m over five years which follows the record investment in the 2021-22 Federal Budget. The spending will continue to support the following:
Home care
Residential Aged Care Services and Sustainability
Residential Aged Care Quality and Safety
Workforce
Governance
The government also committed $345.7m over four years from 2022-23 to embed pharmacy services within residential aged care facilities to improve medication management for the elderly.
If you would like to discuss the 2022-2023 Federal Budget further, please do not hesitate to contact your adviser.
Authored by Jeremy Tyzack – Head of Technical Financial Advice at Bell Potter Securities, March 2022
Important Disclaimer—This may affect your legal rights: Because this document has been prepared without consideration of any specific client's financial situation, particular needs and investment objectives, a Bell Potter Securities Limited investment adviser (or the financial services licensee, or the proper authority of such licensee, who has provided you with this report by arrangement with Bell Potter Securities Limited) should be consulted before any investment decision is made. While this document is based on the information from sources which are considered reliable, Bell Potter Securities Limited, its directors, employees and consultants do not represent, warrant or guarantee, expressly or impliedly, that the information contained in this document is complete or accurate. Nor does Bell Potter Securities Limited accept any responsibility to inform you of any matter that subsequently comes to its notice, which may affect any of the information contained in this document. This document is a private communication to clients and is not intended for public circulation or for the use of any third party, without the prior approval of Bell Potter Securities Limited. In the USA and the UK this research is only for institutional investors. It is not for release, publication or distribution in whole or in part to any persons in the two specified countries. This is general investment advice only and does not constitute advice to any person.
Disclosure of Interest: Bell Potter Securities Limited receives commission from dealing in securities and its authorised representatives, or introducers of business, may directly share in this commission. Bell Potter Securities and its associates may hold shares in the companies recommended.