Medicinal cannabis distribution
Cronos Australia is a medicinal cannabis company that is the market leader in distribution to pharmacies and provides patient consulting services through its clinic business. The key driver for the impressive growth in the past 24 months has been the CanView platform which provides the widest range of medicinal cannabis products compared to competitors (Anspec, Health House).
The current system provides access to patients, doctors and pharmacists. The transition to CanView 2.0 streamlines the consultation and prescription process. Additional features include a consultation platform, connecting patients directly with doctors, integration with clinic software allowing to optimise prescribing, status updates for patients regarding pending orders and a treatment tracker which facilitates pharmacist & clinician monitoring. Phased roll-out of this new ecosystem is targeted from September to December 2022.
Prescribing trends in medicinal cannabis
From a broader industry perspective there has been increasing prescribing of medicinal cannabis products. Authorised Prescribers have increased from 194 in January 2021 to 1,307 in August 2022, SAS-B prescribers has increased from 493 in CY18 to 2,272 in CY22 to date. The key to further clinical adoption will be stronger evidence with a number of studies currently underway.
Investment view: Initiate with Buy, Price Target $0.60
We initiate coverage on Cronos with a Buy recommendation. We expect the momentum observed in FY22 to continue into FY23 and translate into strong revenue and earnings growth. Cronos is currently the only profitable dividend paying medicinal cannabis company on the ASX and the valuation does not appear demanding relative to the expected growth.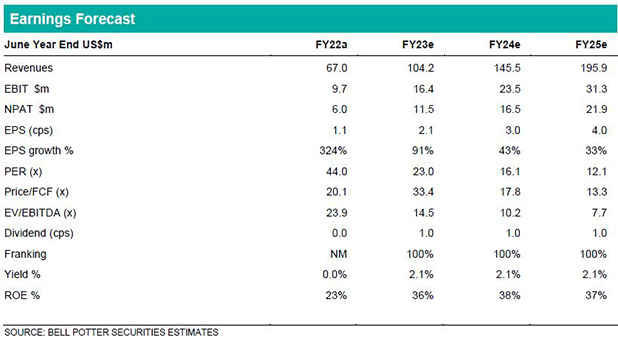 Authored by Dr Anubhav Saxena – Analyst – at Bell Potter Securities, 2 September 2022
Important Disclaimer—This may affect your legal rights: Because this document has been prepared without consideration of any specific client's financial situation, particular needs and investment objectives, a Bell Potter Securities Limited investment adviser (or the financial services licensee, or the proper authority of such licensee, who has provided you with this report by arrangement with Bell Potter Securities Limited) should be consulted before any investment decision is made. While this document is based on the information from sources which are considered reliable, Bell Potter Securities Limited, its directors, employees and consultants do not represent, warrant or guarantee, expressly or impliedly, that the information contained in this document is complete or accurate. Nor does Bell Potter Securities Limited accept any responsibility to inform you of any matter that subsequently comes to its notice, which may affect any of the information contained in this document. This document is a private communication to clients and is not intended for public circulation or for the use of any third party, without the prior approval of Bell Potter Securities Limited. In the USA and the UK this research is only for institutional investors. It is not for release, publication or distribution in whole or in part to any persons in the two specified countries. This is general investment advice only and does not constitute advice to any person.
Disclosure of Interest: Bell Potter Securities Limited receives commission from dealing in securities and its authorised representatives, or introducers of business, may directly share in this commission. Bell Potter Securities and its associates may hold shares in the companies recommended.