1Q22: ~$2.20bn unaudited cash NPAT (BP $2.36bn)
CBA's 1Q22 result components are: 1) unaudited statutory NPAT ~$2.30bn (BP $2.51bn); 2) unaudited cash NPAT ~$2.20bn (BP $2.36bn); 3) operating income down 1% but flat excluding AHL with above system growth offsetting margin pressure and lower non-interest income; 4) operating expenses down 1% – lower remediation costs more than offset higher staff expenses; 5) credit quality stable and reverting back to normal – loan impairment expense $0.10bn or 5bp GLA (BP $0.24bn); 6) credit provisions unchanged; 7) strong balance sheet – 74% customer deposit funding ratio, 131% NSFR and 132% LCR; and 8) Level 2 CET1 capital 12.5% (BP 12.0%) – net of final dividend and buyback, the ratio would be 11.2% (but climbing back to 11.6-11.7%
with announced asset sales).
Operating income was disappointingly and 1% lower with 1% higher net interest income more than offset by much lower non-interest income. On the other hand, growth was ahead of system in core markets at $17.0bn but this was offset by lower NIM. Non-interest income was also 8% lower due to the removal of AHL among other things (excluding these, it was better and flat overall). Finally, operating expense was down by 1% and driven by lower remediation costs (but was only 3% higher mainly due to staff expenses plus 1.5 additional working days). Overall, cash NPAT of around $2.2bn was still higher than for the same period last year – a plus in a way.
Price target a more realistic $111.00 but maintain Buy rating
Given its lower quarterly performance, CBA's cash NPAT is reduced by 3% across the forecast horizon. This is mainly due to lower NII (-1%) and other income (-2%) but flat in total excluding the AHL divestment (above system growth that offset margin pressures and lower other income), slightly lower operating expenses (+1% based on lower remediation costs) and just a minor change in loan impairment expense in FY22 of -33% (i.e. a lower expense). The price target is however lowered by 6% to $111.00 (previously $118.00) after also considering added dividend and ROE risks. Based on a 12-month TSR of greater than 15%, CBA is still regarded as a Buy.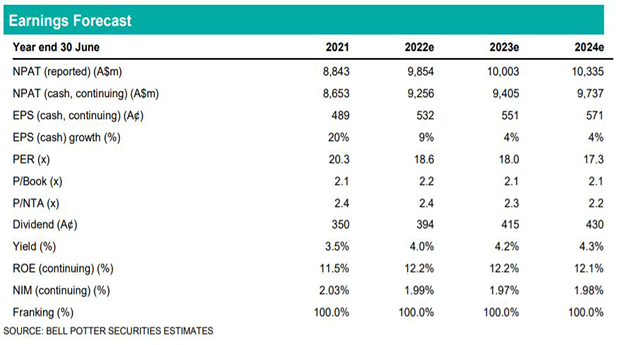 Authored by TS Lim – Analyst – at Bell Potter Securities, 17 November 2021
Important Disclaimer—This may affect your legal rights: Because this document has been prepared without consideration of any specific client's financial situation, particular needs and investment objectives, a Bell Potter Securities Limited investment adviser (or the financial services licensee, or the proper authority of such licensee, who has provided you with this report by arrangement with Bell Potter Securities Limited) should be consulted before any investment decision is made. While this document is based on the information from sources which are considered reliable, Bell Potter Securities Limited, its directors, employees and consultants do not represent, warrant or guarantee, expressly or impliedly, that the information contained in this document is complete or accurate. Nor does Bell Potter Securities Limited accept any responsibility to inform you of any matter that subsequently comes to its notice, which may affect any of the information contained in this document. This document is a private communication to clients and is not intended for public circulation or for the use of any third party, without the prior approval of Bell Potter Securities Limited. In the USA and the UK this research is only for institutional investors. It is not for release, publication or distribution in whole or in part to any persons in the two specified countries. This is general investment advice only and does not constitute advice to any person.
Disclosure of Interest: Bell Potter Securities Limited receives commission from dealing in securities and its authorised representatives, or introducers of business, may directly share in this commission. Bell Potter Securities and its associates may hold shares in the companies recommended.