Ekati Diamond Mine: Top 10 operation located in Canada
BDM's core asset is the Ekati Diamond Mine located in Canada's Northwest Territories. Ekati is ranked in the top 10 of global diamond mines by volume, with 2022 sales of 4.2Mct, revenues of US$494m and Adjusted EBITDA of US$200m. The mine was developed by BHP Ltd (ASX: BHP, not rated) and commenced production in 1998. Ekati now comprises of an open pit mine and underground mine feeding into a central processing plant; an additional open pit mine is in development to take the mine life to 2028. BDM completed the US$136m acquisition of Ekati in early July 2023.
Value opportunities: Mine extensions & moving downstream
There is material optionality at Ekati to de-risk and extend the current mine life. Current operations will likely extend at depth. The new open pit footprint can potentially be expanded to increase output over a longer mine life. Exploration across the Ekati properties is advanced, with only 11 of the 177 identified kimberlite pipes developed to date. BDM also sees opportunities to optimise its rough diamond sales process through partnerships and downstream processing. BDM management bring extensive experience at major diamond producers including De Beers and Rio Tinto (Diavik).
Investment view: Buy, Target price $0.50/sh
The potential for experienced management to enhance the value of an already top-10 global diamond mine is a key tenet of our positive investment view. Ekati is also a highly strategic asset within the thriving global luxury goods value chain. Russia and African nations currently account for around 80% of global diamond supply. With ESG issues increasingly driving consumer preferences, BDM's downstream associations will be able to leverage Ekati diamond's Canadian provenance.
With the Ekati acquisition and concurrent capital raise, BDM has pro forma debt (excluding leases) of around A$150m and cash of A$132m. BDM is adequately capitalised for its current outlook. BDM is trading on an FY24 EV/EBITDA multiple of only 0.8x and a material discount to our sum of the parts valuation.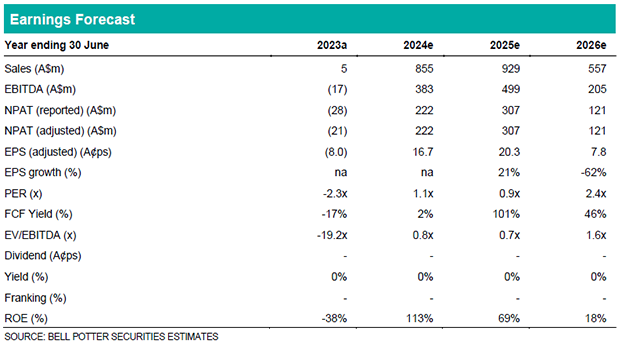 Authored by Stuart Howe – Analyst – at Bell Potter Securities, 18 September 2023
Important Disclaimer—This may affect your legal rights: Because this document has been prepared without consideration of any specific client's financial situation, particular needs and investment objectives, a Bell Potter Securities Limited investment adviser (or the financial services licensee, or the proper authority of such licensee, who has provided you with this report by arrangement with Bell Potter Securities Limited) should be consulted before any investment decision is made. While this document is based on the information from sources which are considered reliable, Bell Potter Securities Limited, its directors, employees and consultants do not represent, warrant or guarantee, expressly or impliedly, that the information contained in this document is complete or accurate. Nor does Bell Potter Securities Limited accept any responsibility to inform you of any matter that subsequently comes to its notice, which may affect any of the information contained in this document. This document is a private communication to clients and is not intended for public circulation or for the use of any third party, without the prior approval of Bell Potter Securities Limited. In the USA and the UK this research is only for institutional investors. It is not for release, publication or distribution in whole or in part to any persons in the two specified countries. This is general investment advice only and does not constitute advice to any person.
Disclosure of Interest: Bell Potter Securities Limited receives commission from dealing in securities and its authorised representatives, or introducers of business, may directly share in this commission. Bell Potter Securities and its associates may hold shares in the companies recommended.