Trading ideas and managing risk
A portfolio is not a set and forget outcome. Once constructed and adequately tailored, a portfolio will need to be monitored and reviewed at regular intervals, with the composition revised. The result of market movements may mean that security analysis changes due to changes in security prices and fundamental factors. Additionally, asset weightings may have drifted from their intended levels due to market movements. The portfolio may also need to be revised if it becomes apparent that the client's needs or circumstances have changed. Regardless, portfolio rebalancing will be required in order to achieve the targeted risk-and-return characteristics.
In theory, investors select a rebalancing strategy that weighs their willingness to assume risk against expected returns net of the cost of rebalancing. Given exceptional returns and all-time-new-highs for the S&P 500 Index, now is the time to reconsider your international equities allocation and how to stay fully invested while managing downside risk (continued on pages 2-5).
Figure 1 – A look at US equities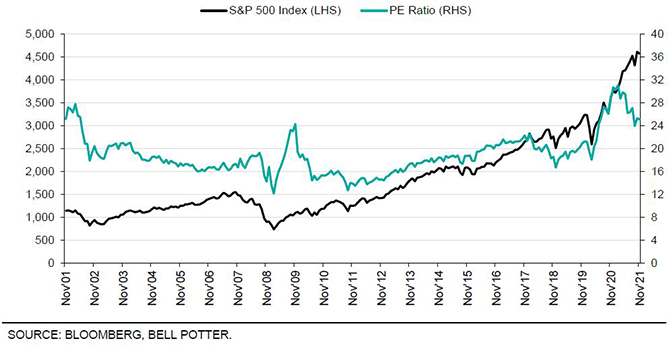 Figure 2 – Top ETF flows for November 2021
Figure 3 – Top ETF flows for 12 months ending November 2021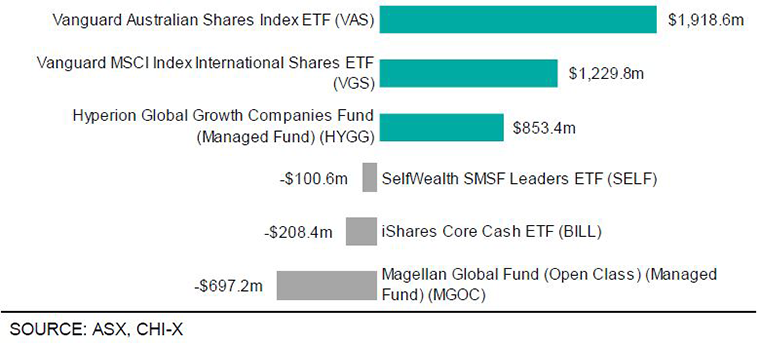 Figure 4 – ETF market size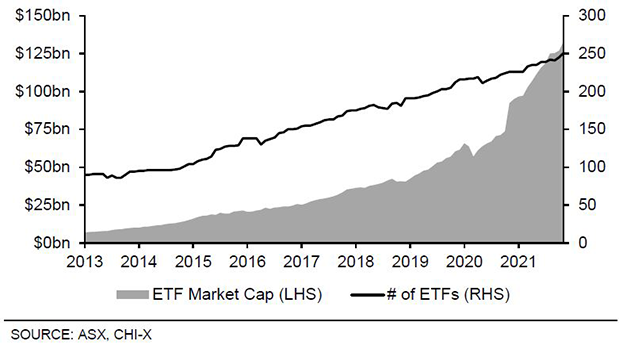 Figure 5 – Average daily volume and value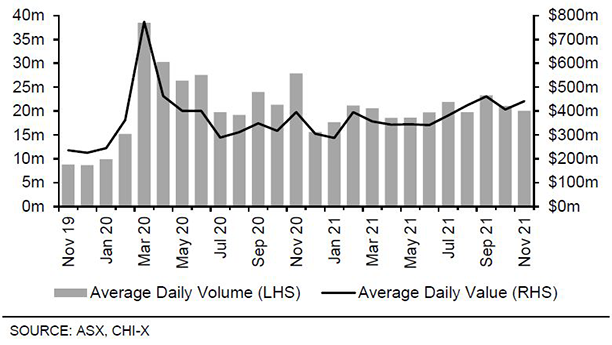 Authored by Hayden Nicholson – Specialist Exchange Traded Funds & Listed Investment Companies at Bell Potter Securities, 20 December 2021
Important Disclaimer—This may affect your legal rights: Because this document has been prepared without consideration of any specific client's financial situation, particular needs and investment objectives, a Bell Potter Securities Limited investment adviser (or the financial services licensee, or the proper authority of such licensee, who has provided you with this report by arrangement with Bell Potter Securities Limited) should be consulted before any investment decision is made. While this document is based on the information from sources which are considered reliable, Bell Potter Securities Limited, its directors, employees and consultants do not represent, warrant or guarantee, expressly or impliedly, that the information contained in this document is complete or accurate. Nor does Bell Potter Securities Limited accept any responsibility to inform you of any matter that subsequently comes to its notice, which may affect any of the information contained in this document. This document is a private communication to clients and is not intended for public circulation or for the use of any third party, without the prior approval of Bell Potter Securities Limited. In the USA and the UK this research is only for institutional investors. It is not for release, publication or distribution in whole or in part to any persons in the two specified countries. This is general investment advice only and does not constitute advice to any person.
Disclosure of Interest: Bell Potter Securities Limited receives commission from dealing in securities and its authorised representatives, or introducers of business, may directly share in this commission. Bell Potter Securities and its associates may hold shares in the companies recommended.