Beware of Monitoring Hours
Retail investors belonging to social media trading groups redirected their attention to commodities on 1 February, predicated on a belief that Wall Street hedge funds were short silver. The latest daily short-squeeze attempt sent the spot price of the metal up 6.7%, with ~3,000 transaction being executed in ETFS Physical Silver (ASX:ETPMAG), which incurred a daily volume and value of 1.3m and $47.7m, respectively. ETF issuers will routinely publish an intra-day indicative net asset value (iNAV), which provides real-time guidance on the value of a fund.
This seeks to reduce the possibility of a fund trading at a premium or discount to NAV. As a general rule of thumb, the trading experience is best enhanced when the market is completely open, with Market Makers being more able to efficiently quote buy and sell prices based on the current fund composition. Investors therefore need to be aware of when the underlying markets open and close to ensure best pricing.
For this reason it is advisable to hold off buying or selling an ETF 15 minutes after a market opens and 15 minutes prior to market close. Market Maker orders are continuously updated throughout the day, reflecting price changes in the underlying basket of securities while providing liquidity and a specified buy-sell spread around the true value of the ETF.
Figure 1 – ETFS Physical Silver (ASX:ETPMAG)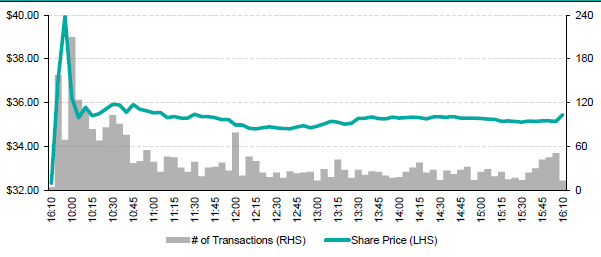 Figure 2 – Top ETF flows for January 2021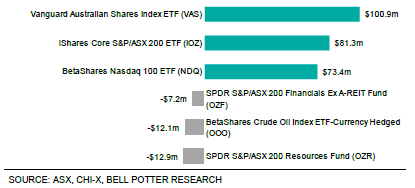 Figure 3 – Top ETF flows for 12 months ending January 2021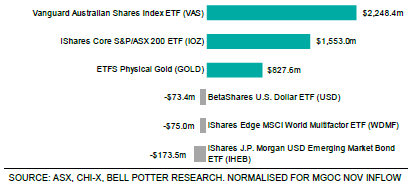 Figure 4 – Australian ETF market size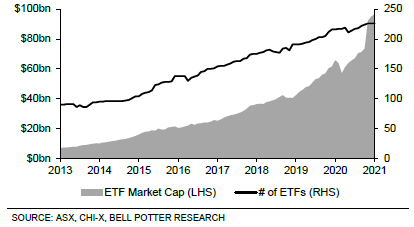 Figure 5 – ASX ETFs in comparison to total ASX Funds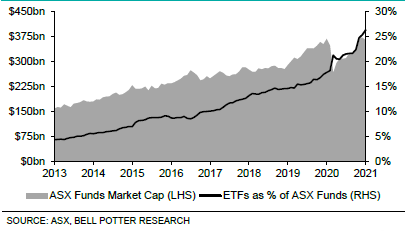 Authored by Hayden Nicholson, ETF / LIC Specialist at Bell Potter Securities, 24 February 2021
Important Disclaimer—This may affect your legal rights: Because this document has been prepared without consideration of any specific client's financial situation, particular needs and investment objectives, a Bell Potter Securities Limited investment adviser (or the financial services licensee, or the proper authority of such licensee, who has provided you with this report by arrangement with Bell Potter Securities Limited) should be consulted before any investment decision is made. While this document is based on the information from sources which are considered reliable, Bell Potter Securities Limited, its directors, employees and consultants do not represent, warrant or guarantee, expressly or impliedly, that the information contained in this document is complete or accurate. Nor does Bell Potter Securities Limited accept any responsibility to inform you of any matter that subsequently comes to its notice, which may affect any of the information contained in this document. This document is a private communication to clients and is not intended for public circulation or for the use of any third party, without the prior approval of Bell Potter Securities Limited. In the USA and the UK this research is only for institutional investors. It is not for release, publication or distribution in whole or in part to any persons in the two specified countries. This is general investment advice only and does not constitute advice to any person.
Disclosure of Interest: Bell Potter Securities Limited receives commission from dealing in securities and its authorised representatives, or introducers of business, may directly share in this commission. Bell Potter Securities and its associates may hold shares in the companies recommended.