Mardie milestones achieved in readiness for development
BCI is now readying for full scale development of the Mardie Salt and SOP project to commence on receipt of final approvals in the current quarter. During the December 2021 quarter: State and federal environmental approval was received; critical land access agreements finalised; BCI's Board took a Final Investment Decision; and required debt and equity finance for the +$1b project obtained. BCI closed the quarter with $334m in cash and over $900m in undrawn finance facilities.
Iron ore price volatility hits Iron Valley EBITDA
Iron Valley reported significantly weaker quarterly EBITDA of $1.8m and the September quarter result was restated from $17m to $3.5m. The hit to earnings caused by weaker iron ore prices, increased price volatility and increased quality discounts. Iron Valley's relatively small scale and few monthly shipments exacerbates the earnings impact when cargos are priced at their destination in weaker markets. With iron ore prices strengthening into 2022, BCI expect some of this earnings weakness to unwind. However, persistently high quality discounts have continued into this year. Ordinarily, this earnings weakness would be of concern. However, BCI's Mardie funding is now arranged with little call on Iron Valley's earnings to support the project's development. EPS changes in this report relate to adjustments to our Iron Valley assumptions alone: FY22 now -0.6cps (previously 2.7cps); FY23 now 1.4cps (previously 1.9cps); and FY24 now -1.2cps (previously -1.0cps).
Investment thesis: Buy, TP$0.63/sh (previously $0.66/sh)
The Mardie Salt and SOP project is tier-one in scale and transformational for BCI. The project is nearing final approvals and the commencement of full-scale development. Mardie has received support from government backed debt agencies and commercial lenders, recognising the project's 60+ year life, strong earnings potential and sustainable, carbon neutral credentials. BCI also has near-term cash flows from its Iron Valley operations.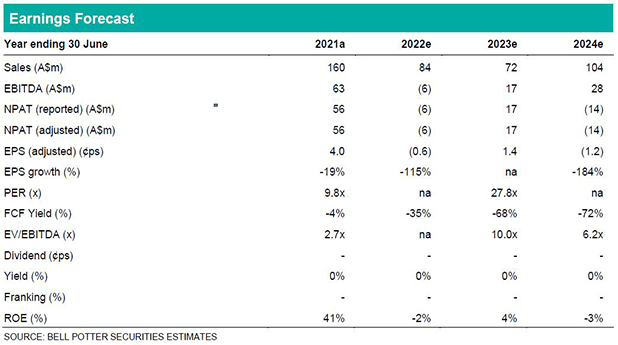 Authored by Stuart Howe & Joseph House – Analysts – at Bell Potter Securities, 31 January 2022
Important Disclaimer—This may affect your legal rights: Because this document has been prepared without consideration of any specific client's financial situation, particular needs and investment objectives, a Bell Potter Securities Limited investment adviser (or the financial services licensee, or the proper authority of such licensee, who has provided you with this report by arrangement with Bell Potter Securities Limited) should be consulted before any investment decision is made. While this document is based on the information from sources which are considered reliable, Bell Potter Securities Limited, its directors, employees and consultants do not represent, warrant or guarantee, expressly or impliedly, that the information contained in this document is complete or accurate. Nor does Bell Potter Securities Limited accept any responsibility to inform you of any matter that subsequently comes to its notice, which may affect any of the information contained in this document. This document is a private communication to clients and is not intended for public circulation or for the use of any third party, without the prior approval of Bell Potter Securities Limited. In the USA and the UK this research is only for institutional investors. It is not for release, publication or distribution in whole or in part to any persons in the two specified countries. This is general investment advice only and does not constitute advice to any person.
Disclosure of Interest: Bell Potter Securities Limited receives commission from dealing in securities and its authorised representatives, or introducers of business, may directly share in this commission. Bell Potter Securities and its associates may hold shares in the companies recommended.