Bell Potter Client Access has been completely redeveloped with a new look, responsive design and value adding reporting and market information.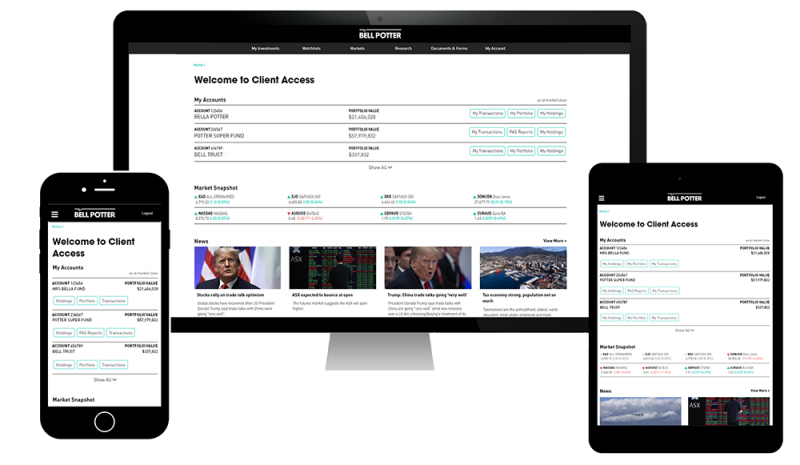 Our new client portal delivers a market leading stockbroking experience with all the tools you need to make better investment decisions.
An optimised browsing experience that is adaptive to desktop, tablet and mobile screens.
Simple and user-friendly navigation helping you get where you want to go faster.
A snapshot of everything you need on the homepage, including portfolio/s value, relevant news and research.
Updates about your portfolio and investments as they happen.
A regular flow of market news and live market data keeps you well informed.
Less page surfing with more information on every page.
Optional two step verification for added security of portfolio and personal information.
KEY FEATURES YOU LOVE ARE STAYING THE SAME
Portfolio & investments reporting
Keep track of your portfolio and investments with a comprehensive suite of reports including your equities portfolio valuation/s and movement, transactions statements, and other detailed reporting associated with your derivatives, PAS, lending and/or superannuation accounts.
Quality research from Bell Potter, Citi and Morningstar
An extensive library of research publications featuring company reviews and recommendations, daily market commentary, sector reports, domestic economics and strategy reports, fixed income and hybrid research, studies/panels and more.
Live market data & news
Live market data, market news, and charting and stock comparison tools to help you make better informed investment decisions. You can also create customised watchlists to keep track of your favoured stocks and review their performance over time.
Need help with registering for Bell Potter Client Access?
Our 'How do I register for Client Access' page has useful information to help you register as a new Bell Potter Client Access user or to migrate your existing account to the new portal.
How do I log in to the client portal?
Please note:
Your new login will be an email address, not your existing username.
By signing up, you won't lose access to your existing account as the current site will remain active.
Any changes made on the new Client Access will not be reflected on the current site, i.e. if you remove/add a stock from an existing watchlist or create a new watchlist, these changes will not be visible on the current site.
Need technical support?
If you have any technical issues, please email our team on support@bellpotter.com.au or contact your adviser directly.