COMEX Gold (GC) liquidity robust amidst COVID-19 related volatility
Top-of-book bid/ask spread has returned to levels seen prior to the emergence of COVID-19 in mid-March. Average top of book spread now rests at just above 1 tick (10 cents) wide.
GC liquidity has improved significantly since the start of the second quarter.
GC inventories held in COMEX depositories reached 28M oz. as of June 30, 2020, a new record.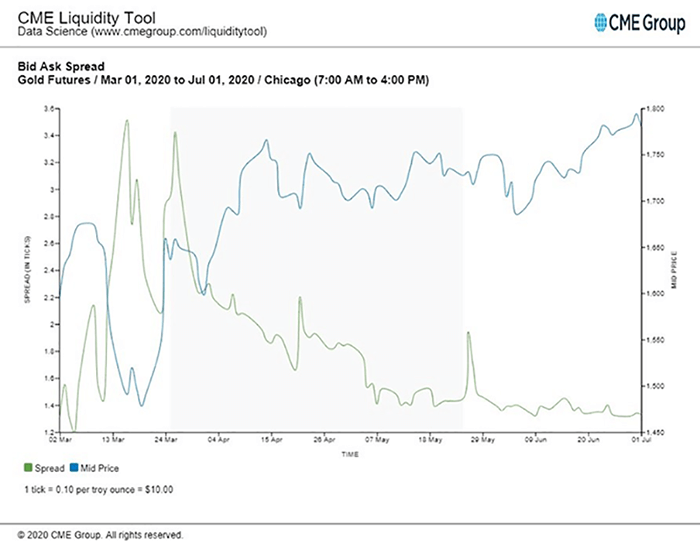 London added as delivery location
The Gold (Enhanced Delivery) futures contract is being amended to expand allowable delivery locations to include London.
COMEX Copper enjoys rebound in volume and open interest as hopes of economic recovery grow
Open interest in COMEX Copper futures rebounded strongly in Q2 2020, rising nearly 20% to 205,811 contracts since early May.
Average daily volume in June futures and options was 103,054 contracts (+63% vs. May 2020).
Inventory held in COMEX-registered warehouses nearly doubled during the quarter to 80,101 short tons.
Micro Gold (MGC) and Silver (SIL) see record volume in Q2
Average daily volume during Q2 of 72,094 and 3,301 for MGC and SIL, respectively, were quarterly records.
Micro Gold futures offers a 10:1 offset with the larger 100-oz. Gold futures contract and the Micro Silver futures offers a 5:1 offset with the 5,000-oz. Silver futures contract.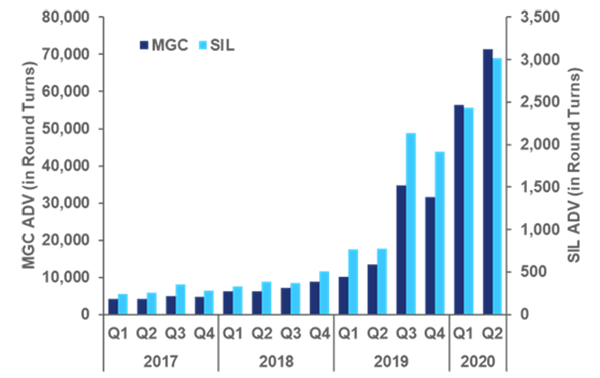 Gold option volatility stabilizes
GC at-the-money (ATM) volatility has normalized as higher price levels have stabilized.
Implied volatility in gold has returned to average levels after rising in March to 2008-like record levels.
Liquidity in monthly and weekly gold options has remained steady through volatility's rise and retracement.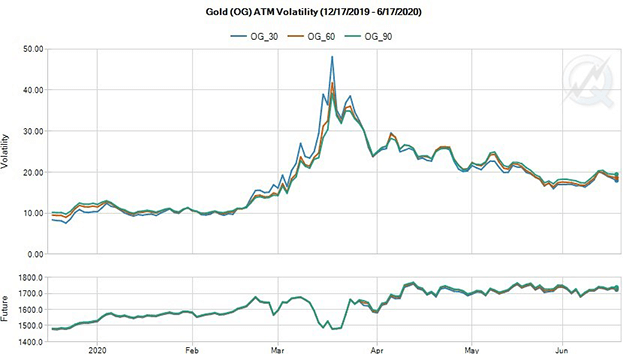 Aluminum inventories rise – enhanced ALI screen liquidity starting Q3
Aluminum inventories held in COMEX warehouses are currently 35,823 metric tons, representing the highest level since globalizing the contract.
Aluminum Midwest Premium (AUP) open interest hit a record high of 38,349 on July 2, beating the previous mark of 35,372 from March 2018.
Steel contract suite sees record volume as European HRC starts strong with increased screen liquidity
A combination of strong market demand and client education has led to wider adoption of the Hot-Rolled Coil (HRC) futures contract. HRC futures traded a record 107,840 short tons (5,392 contracts) on May 18. That equates to a notional value of $54M trading during the May 18 session.
Our new North European Hot-Rolled Coil Steel contract accrued nearly 16,500 short tons of open interest as of July 2 since launching in March, indicating strong interest from the physical community.
Published on 13 July
2020

. Original report published on CME Group.