COMEX Aluminum futures gaining traction
 Average daily volume (ADV) in Aluminum futures was 193 contracts (4,825 metric tons) in Q1, up 30% YoY.
Inventories continue to set new highs since globalizing the contract, with just over 33K metric tons in CME Group warehouses in April.
Gold warrants as collateral
At present, CME Group accepts London gold bullion and gold warrants as collateral to meet Base and IRS performance bond requirements in the House origin, with over $3.9B worth of gold warrants currently pledged as collateral.
Effective April 28, 2021, CME Clearing (CME) will permit clearing members to deposit COMEX gold warrants (gold warrants) as collateral to meet Base and IRS performance bond requirements in the

Customer Segregated and Customer OTC ("Customer") origins

.
For further information related to the gold warrant collateral program, please see the CME gold collateral website or contact CME Credit Risk at CreditRisk@cmegroup.com.
Copper volume rises as manufacturing ramps up
COMEX Copper volume in February was the highest since June 2018 and the fourth highest monthly all- time volume.
Open interest in COMEX Copper during Q1 was also on a strong uptrend – up 2% on the same period in 2020.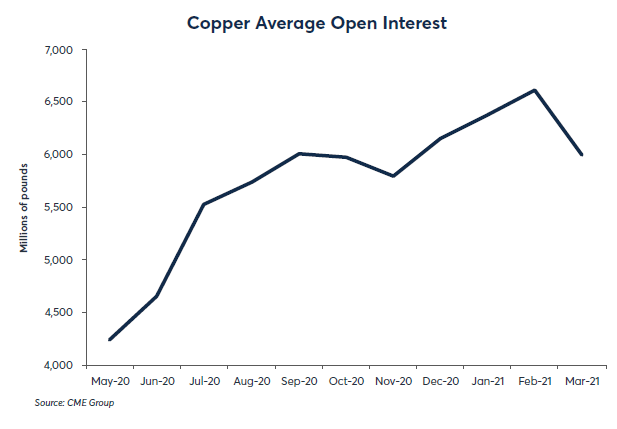 With a strong fundamental story, superior screen liquidity, and outperformance against peers, now is an opportune time to take another look at COMEX Copper.
COMEX Copper options volumes surge in Q1
Copper options have seen a strong uptick in volume, liquidity, and customer involvement as copper has rallied to 10-year highs.
While the price of copper has risen to levels we have not seen in 10 years, the price of calls are still their long-term range. Calls have historically been priced between one and two implied vols above ATM. Call skew fell during the beginning of COVID-19 and has now returned to a normal range over the last year.
COMEX Copper options can offer simple and efficient execution directly via competitive live-market quotes on CME Globex, with affordable, transparent exchange fees and potential margin offset savings.
Strong start to 2021 for Steel complex
Momentum in the Steel complex continues with average daily volume up 24% year to date vs. full-year 2020 to 24K tons. US Hot-Rolled Coil Steel futures are the primary driver of growth with the average daily volume over 20K tons, equivalent to $27 million/day in notional value.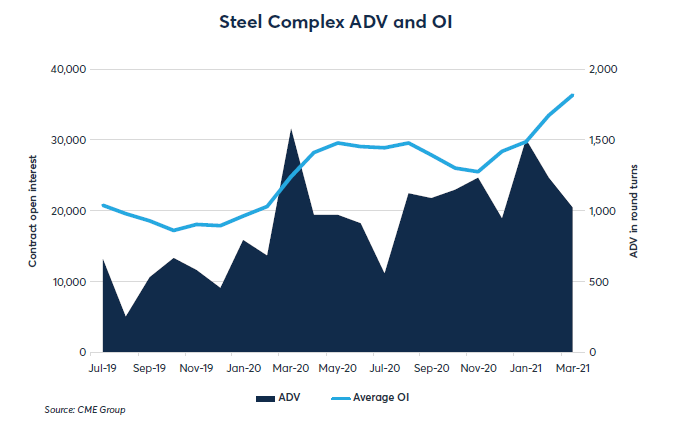 Busheling Steel Scrap continues to grow in volume and relevance. 2021 average daily volume is nearly 100 contracts.
European Hot-Rolled Coil Steel futures have also been a notable contributor with immediate uptake since the March 2020 launch. Average daily volume now stands at 1K tons
Published on 14 April 2021. Original report published on CME Group.