The start of every year offers new opportunities, insights, and beginnings for everyone; Eurex is no exception. The new year saw the Fixed Income (FI) portfolio perform solidly, 3.6% higher compared to the start of 2021. There were several green shoots across both futures and options, where the volumes witnessed strong growth, namely the Bobl segment.
The futures suite saw marginal volume growth of 0.4% compared with January 2021. Bund and Bobl futures saw an increase of 1.6% and 18.5%, respectively, compared to the same period last year. The front end of the curve underperformed relative to the rest of the curve, with Schatz volumes decreasing 10.9%.
The Italian and French segments started 2021 from elevated levels that continued in 2022 saw a pullback in volumes compared to January last year. The 10y segments witnessed volumes decreases of 2.2% and 6%, respectively. Having said this, the beginning of February has been very positive, with a significant increase in volumes across the futures segment.
The main themes of 2021 are continuing into February 2022, with Central Banks looking to accelerate tapering as inflation remains a key concern. This, in turn, is putting continued pressure on central banks to raise rates more swiftly and reduce monetary stimulus. The back up in yields and increased realized volatility have underpinned our volumes. To put this into perspective, volumes at the tail end of last week were 4.3m and 3.9m contracts, respectively, which resulted in ADV of 3.2m contracts with Bund futures averaging over 1m contracts alone, 50% above 2021 ADV. Additionally, the Spanish segment saw an increase in volumes of 22.3% compared to January 2021.
In January, the two-way price action in markets and divergence amongst central banks helped to underpin volumes in our options portfolio. As the forwards began to rise and yields edged higher, volumes in Bunds and Bobl options saw an increase of 48.5% and 262.3%, respectively. Weekly options on Bunds continued to see solid volume development, with an increase of 38.6%. The Italian segment performed well, witnessing an increase of 95.7%. The front end of the curve underperformed relative to the rest of the curve; however, February has seen a material pickup in volumes with Schatz and Bobl volumes 238.9% and 371.4% higher in options versus 2021 ADV.
Growth opportunities emerged in our nascent ESG segment, with volumes trending higher. In 2022 we saw over 700mn in notional traded. Additionally, we have seen the largest block trades (550 lots changed hands) and the day with the highest volume (1,161 contracts, e.g., EUR 180mn). Currently, open interest stands at 3,422 contracts, which corresponds to over EUR 550mn in notional outstanding. The spread, in basis points, always remains around 8 bps wide if trading on the order book. Even during the last week's volatility (February), prices in the CLOB have remained consistent and have provided reliable benchmarking for positions held, albeit at wider spreads.
February looks set to benefit from strong tailwinds and our members continue to show us great support; thank you. Our ETF options segment continues to see increased interest and we are committed to growing this ecosystem. We believe we have positioned the portfolio to benefit and support our members as we continue in 2022.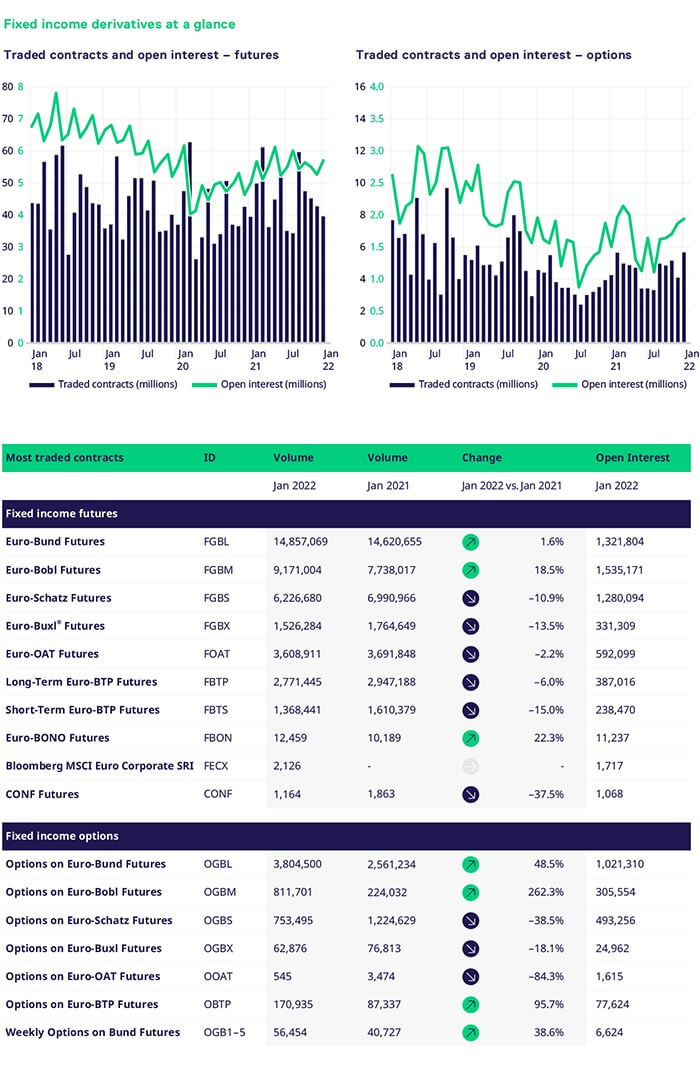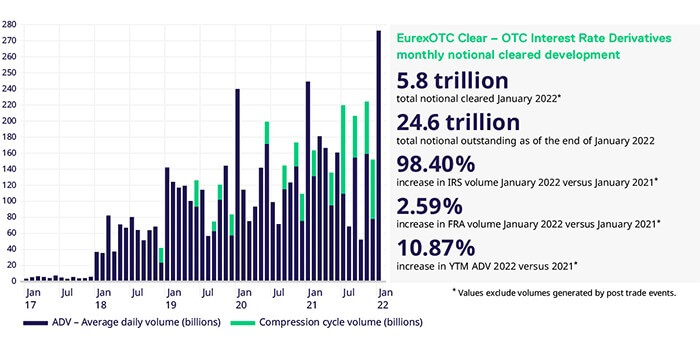 Original report published on Eurex.
Neither Eurex Frankfurt AG, nor its servants nor agents, is responsible for any errors or omissions contained in this publication, which is published for information only and shall not constitute an investment advice. Any information herein is not intended for solicitation purposes but only for the use of general information. The information contained in this message is confidential or protected by law. If you are not the intended recipient, please contact the sender and delete this message. Any unauthorized copying of this message or unauthorized distribution of the information contained herein is prohibited.
Copyright © 2022 Eurex Frankfurt AG. All rights reserved