Looking back at the second quarter, we observe an almost identical slow trend up for global equity markets, with a small bounce and then reversion of implied volatility back to historical averages. China and Hong Kong deviated from this trend, impacted by the worsening political environment. It would be too easy to conclude that the past quarter was uneventful based on the charts. The reality is that markets have been captivated by the cryptocurrency volatility experienced throughout the sharp retracement in May. However, so far, there has been a muted spillover to traditional asset classes.
Eurex volumes understandably did not see a repeat of Q2 2020 activity. However, there was some notable growth for VSTOXX® futures and options as clients took the opportunity to harvest volatility risk premia. The Banks sector was also in focus given the continued strong price recovery for European banks. The Oil & Gas sector was even more active with large jumps in volumes, especially for the options. With the overall reduction in volatility, end-clients focused hedging activity in the EURO STOXX 50® index options by favoring the shorter-dated weekly and month-end expiries to optimize Vega exposure. Finally, several regulatory initiatives -geared at providing a clear framework for ESG investing materialized in Q2. This made it no surprise that the STOXX® Europe ESG-X futures and options had a sustained and growing interest.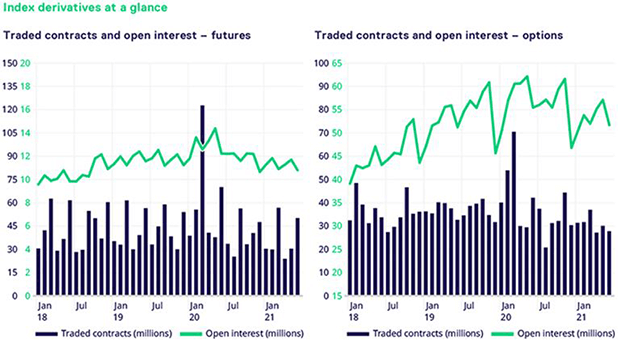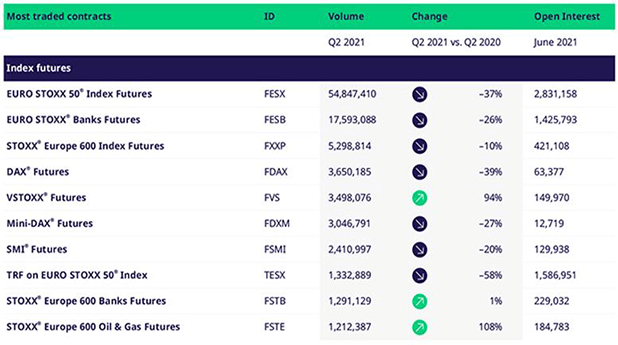 Published on 7 July 2021. Original report published on Eurex.