Oil prices have reached their highest level since 2014 on growing demand, outpacing supply.
The 22nd OPEC & non-OPEC Ministerial Meeting will take place on 4 November 2021 (Thursday). The main objective of the meeting is to set the oil production for the coming months.
Informal discussions will take place from the week prior to this meeting. We have activated the CME Group OPEC Watch Tool for this meeting.
Friday 5 November 2021 – the day following this OPEC meeting – US non-farm payrolls data for the month of October will be published.
Managing current volatility in oil prices with WTI Options
WTI Options offer different expiration dates ahead of these important events:
Traders can use WTI American options (LO) and WTI weekly options (LO1-5).
Different expiration dates around the OPEC meeting and non-farm payrolls:

Ex: LO5V1 expires the Friday prior to the OPEC Meeting; LO1X1 expires on the Friday following the OPEC Meeting
How WTI weekly options are designed?
Expire every Friday that is not already a monthly option expiration.
Exercise into the active futures expiry.
Same tick size as the monthly options.
More granularity with 20 strikes at $0.25 per barrel strike increment above and below the at-the[1]money strike.
New weekly option listed the business day following an expiration.
Automatic exercise with no contrary instructions.
What are the key features of WTI weekly options?
Flexibility to manage short-term volatility and risk.
Precision timing to target specific events, like OPEC meetings.
More expirations (weeklies and monthly), more strike granularity.
Shorter expirations = lower premium.
Trading statistics & market access:
WTI Weekly Options are actively trading on CMED.
ADV in the past three month was close to 5,000 lot/day.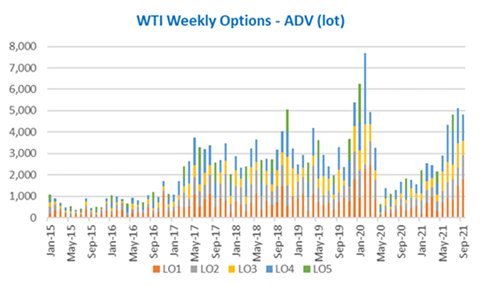 RFQ and DRFQ functionality for execution.
Liquidity providers available during APAC hours.
Contacts available on CMED RFQ directory.
Original report published on CME Group.
Neither futures trading nor swaps trading are suitable for all investors, and each involves the risk of loss.  Swaps trading should only be undertaken by investors who are Eligible Contract Participants (ECPs) within the meaning of Section 1a(18) of the Commodity Exchange Act.  Futures and swaps each are leveraged investments and, because only a percentage of a contract's value is required to trade, it is possible to lose more than the amount of money deposited for either a futures or swaps position.  Therefore, traders should only use funds that they can afford to lose without affecting their lifestyles and only a portion of those funds should be devoted to any one trade because traders cannot expect to profit on every trade.
CME Group, the Globe Logo, CME, Globex, E-Mini, CME Direct, CME DataMine and Chicago Mercantile Exchange are trademarks of Chicago Mercantile Exchange Inc.  CBOT is a trademark of the Board of Trade of the City of Chicago, Inc.  NYMEX is a trademark of New York Mercantile Exchange, Inc.  COMEX is a trademark of Commodity Exchange, Inc. All other trademarks are the property of their respective owners.
The information within this communication has been compiled by CME Group for general purposes only. CME Group assumes no responsibility for any errors or omissions. Additionally, all examples in this communication are hypothetical situations, used for explanation purposes only, and should not be considered investment advice or the results of actual market experience.  All matters pertaining to rules and specifications herein are made subject to and superseded by official CME, CBOT, NYMEX and COMEX rules. Current rules should be consulted in all cases concerning contract specifications.
Copyright © 2021 CME Group Inc. All rights reserved