With the recent market turbulence across asset classes, we wanted to take this time to update you on our robust suite of Industrial Metals and remind you of the safeguards that we have in place to ensure orderly markets.
Our physically delivered High-Grade Copper Future is our best performing Base metal in terms of volume.
Volumes have grown at a 12% CAGR from 2009-2021, and Copper Options (both monthly and weeklies) have seen tremendous growth, +74% in 2021 vs. 2020 and on track for a record quarter in Q1 '22. The majority of transactions occur on-screen via Globex, and we are proud to call ourselves the global leader in electronic Copper Futures and Options. Along with the many benefits of transacting electronically, our contract structures facilitate position management, and the liquidity of our markets makes it easy to enter and exit positions. Currently, managed money represents over 30% of total Copper Futures Open Interest.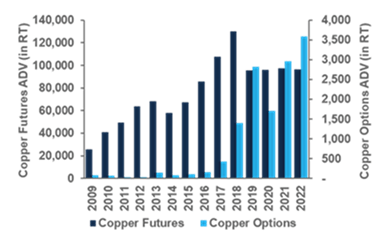 Along with our Copper contracts, we have made great strides in Aluminum from both the regional premium perspective and in our global, physically delivered Aluminum Future (ALI).
In July 2019, COMEX globalized ALI by expanding its warehousing network to include delivery points in North America, EMEA, and APAC. After coming off a record year in 2021, COMEX ALI ADV had its second best month all-time in Feb '22, trading 789 round turns/day (20,000 MT traded/day). With prices at record levels, now is the time to get involved in one of our fastest-growing products at CME. Find out more here and on our website.
PRODUCT CODE: ALI
BLOOMBERG CODE: ALEA COMDTY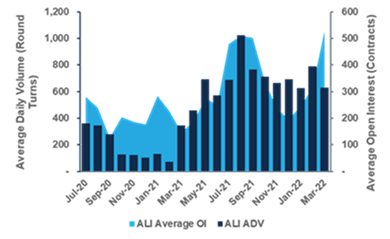 Finally, the COMEX steel suite has a compound annual growth rate of 44% since 2017 and notched its fifth consecutive year of volume growth in 2021.
By notional value traded, the global ferrous market is the world's second largest commodity market, and we have seen enormous growth across steel products. More than 22k tons ($30M notional) of steel traded per day on COMEX in 2021. Open interest also remains at all-time highs, and the number of participants in COMEX Steel markets almost doubled from 2020 to 2021. Learn more about our steel futures here.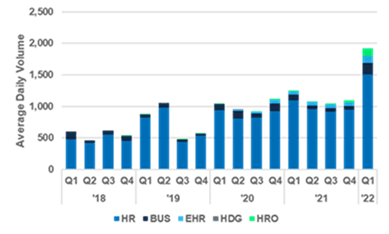 CME Group's Safeguards: Along with being heavily regulated by the CFTC, the CME Group has multiple measures in place to help maintain orderly markets.
Spot Month Position Limits

COMEX & NYMEX Metals spot month position limits are:

Set basis the deliverable supply of the total inventory of metal available in COMEX & NYMEX approved facilitates.
Monitored closely by both the Market Regulation division and the CFTC.
Very conservative to protect against market manipulation.

More information can be found through the CFTC and our position limit documents.

Clearly defined Dynamic Circuit Breakers transition impacted contracts into a two-minute pre-open state upon being triggered.

In COMEX & NYMEX Metals, DCBs upper and lower limit is a 10% move within 1 hour. More information can be found through our FAQ Document and Wiki page.
Original report published on CME Group.
Neither futures trading nor swaps trading are suitable for all investors, and each involves the risk of loss.  Swaps trading should only be undertaken by investors who are Eligible Contract Participants (ECPs) within the meaning of Section 1a(18) of the Commodity Exchange Act.  Futures and swaps each are leveraged investments and, because only a percentage of a contract's value is required to trade, it is possible to lose more than the amount of money deposited for either a futures or swaps position.  Therefore, traders should only use funds that they can afford to lose without affecting their lifestyles and only a portion of those funds should be devoted to any one trade because traders cannot expect to profit on every trade.
CME Group, the Globe Logo, CME, Globex, E-Mini, CME Direct, CME DataMine and Chicago Mercantile Exchange are trademarks of Chicago Mercantile Exchange Inc.  CBOT is a trademark of the Board of Trade of the City of Chicago, Inc.  NYMEX is a trademark of New York Mercantile Exchange, Inc.  COMEX is a trademark of Commodity Exchange, Inc. All other trademarks are the property of their respective owners.
The information within this communication has been compiled by CME Group for general purposes only. CME Group assumes no responsibility for any errors or omissions. Additionally, all examples in this communication are hypothetical situations, used for explanation purposes only, and should not be considered investment advice or the results of actual market experience.  All matters pertaining to rules and specifications herein are made subject to and superseded by official CME, CBOT, NYMEX and COMEX rules. Current rules should be consulted in all cases concerning contract specifications.
Copyright © 2022 CME Group Inc. All rights reserved