With copper in focus recently, below highlighted some trends we are seeing in our market.
COMEX Copper volume in February was the highest since June 2018 and 4th highest monthly volume all time. With a strong fundamental story, superior screen liquidity, and outperformance against peers now is an opportune time to take another look at COMEX Copper.
Commentary on Coppers supply and demand dynamics driving price action from our Sr. Economist Erik Norland, link
COMEX Copper Screen Liquidity:

COMEX Copper futures maintained an average top of book spread within 1.5 ticks and depth of 8 contracts at the first price level (3 price levels down into the orderbook offered 20 to 60 contracts) during the month of February
COMEX Copper options saw a large uptick in both screen and block trading activity – implied volatility 30%, Bid ask spreads 0.70 vols wide, and top of book depth 25 to 50 lots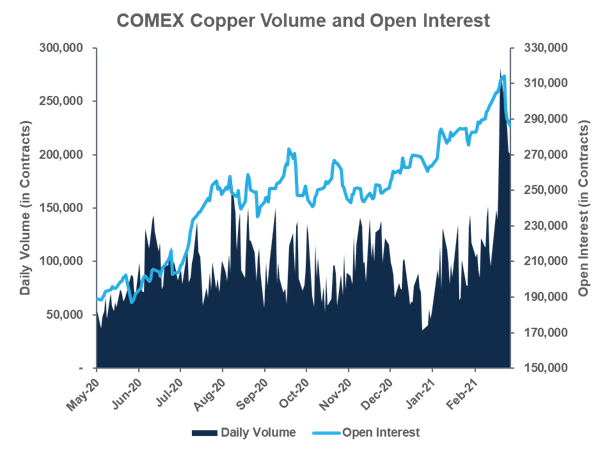 Options liquidity has been strong and we have seen steady growth in the use of RFQs and Block Trades.
While the price of copper has risen to levels we have not seen in 10 years, the price of calls are still their long term range.  Calls have historically been priced between 1-2 implied vols above ATM.  Call skew fell during the beginning of COVID and has now returned to a normal range over the last year.