SOFR options register largest monthly OI gain in exchange history
With inflows topping 13.4M contracts, SOFR options set the single largest month-over-month gain in open interest of any product in CME Group history in January, surpassing the previous high of 10.4M set by Eurodollar options in 2016:
Trading volume in SOFR options soared during the month, averaging a record 1.8M contracts/day as traders hedged portfolios and expressed views around the uncertain path for rates in 2023.
SOFR futures volumes were equally elevated, averaging 2.6M contracts/day.
Total open interest in SOFR now exceeds 43.7M contracts (34M in options and 9.7M in futures).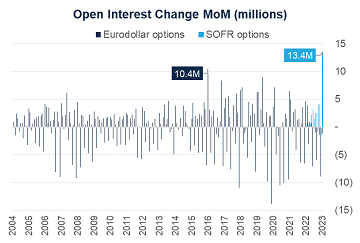 2022 trading and liquidity review
Following a record 2022 that saw volatility triple off the 2021 lows, we summarized the resiliency of our markets by analyzing key measures of liquidity, including cost-to-trade, ADV, OI, and breadth of participation.
Traders embrace €STR futures as a precise hedge for EU money markets
€STR futures set a new monthly high for trading volume in January as tighter spreads and increased size at top of book attracted more end-user flow.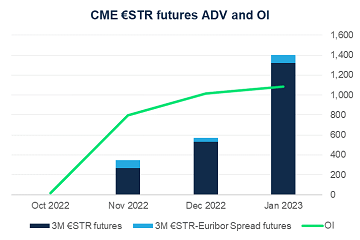 TBA futures liquidity continues to build
The MBS market is now more accessible, thanks to recently launched 30-Year UMBS TBA futures. These contracts, via an equal access electronic order book, offer transparent price discovery and streaming liquidity on key coupon rates. Activity in outrights, dollar rolls, and coupon swaps has led to more than $565M in notional volume in just three months of trading.
Upcoming enhancements effective with the May 2023 contracts*: 
Delivery process: All positions will go to settlement as TBA forwards (removing cash-settlement), and the delivery notice period will be brought forward by two hours on the last trading day (details).
6.5% coupons will be listed for first trade date Feb. 27 beginning with the May 2023 contract (details).
Eris SOFR Swap futures coming to portfolio margining
Commencing February 27, Eris SOFR Swap futures will be eligible for portfolio margining with CME Cleared OTC swaps, unlocking new efficiencies and deeper liquidity for Eris SOFR contracts.
Published on 31 January 2023. Original report published on CME Group.
*Pending regulatory review