T-Bill futures coming October 2
As the Treasury increasingly issues T-Bills to fund short-term obligations, CME Group is launching 13-Week U.S. Treasury Bill futures to meet clients' need for a direct and effective hedging instrument.
Launching October 2*, T-Bill futures will offer a precise way to hedge risks related to yields at auction. Key details include:
Familiar STIR futures design: cash settled, $25/bp contract size, settled on IMM weeks
Final settlement price: 100 minus the highest accepted discount yield in the 13-Week T-Bill auction
Six contracts listed spanning one year (four quarterly and two serial expires)
Seamless spreading versus SOFR
Globex code: TBF3
View the full contract specs
*pending regulatory review
SOFR packs & bundles activity rises
The use of SOFR packs and bundles is on the rise, as enhanced liquidity allows users to better leverage this key mechanism for implementing multi-contract strategies without legging risk.
P&Bs accounted for ~20% of 3M SOFR volume in August, up from the 16% average
YTD.
562k in ADV for the month of August.
Top-of book depth increased by 63%.
Unprecedented growth drives Treasury OI to nearly 20M contracts
The Treasury futures liquidity pool reached new depths in August as soaring demand pushed open interest to the unprecedented level of 19.81M contracts on Aug 23. To put that into perspective, that's:
Up 39% year-to-date
Up 75% from the November 2020 post-COVID-19 lows
Up 19% vs. the pre-2023 all-time high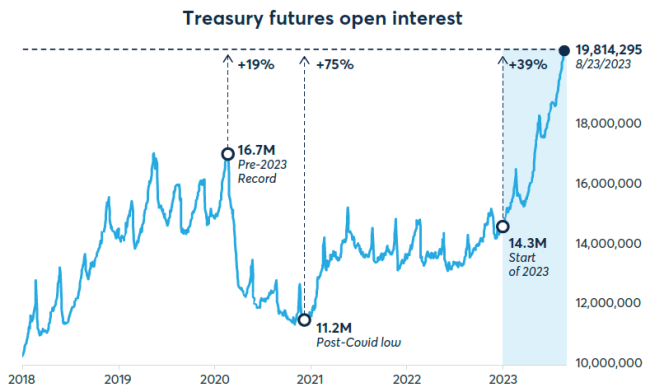 Published on 30 August 2023. Original report published on CME Group.