3-Year Treasury futures OI surges
With 2Y, 3Y, and 5Y Treasury yields all rising to new 2021 highs in September, clients are capitalizing on the curve granularity and cost-effective execution (1/8 ticks) of 3Y futures to manage short-end UST exposure.
Notably in September:
OI surged to a record 24K contracts ($4.7B notional), +97% MoM.
ADV rose to nearly 10K contracts/day, the second highest on record (highest non-roll
month ADV).
Over 170 market participants have now added 3Y futures to their trading mix.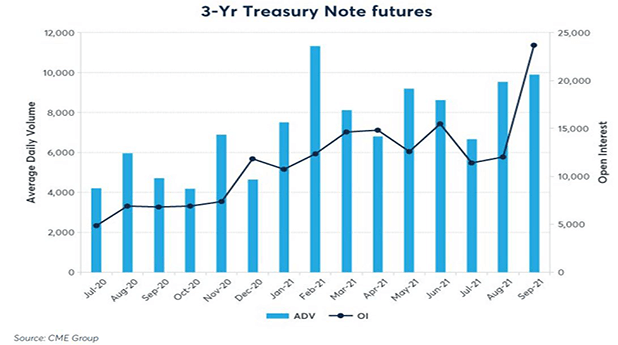 Micro Treasury Yield futures top 450K contracts traded
In just seven weeks of trading:
Total volume of 450K contracts
Trading from 500+ unique accounts
September ADV of 16K contracts, +44% MoM
Open interest of 3,805 contracts
Yield futures offer direct exposure to OTR Treasuries, with yield-based pricing, cash
settlement to BrokerTec UST benchmarks, and fixed DV01 and duration.
Trading at Settlement (TAS) coming to US Treasury futures November 15*
TAS functionality allows market participants to enter a trade at a spread to the
yet-to-be-determined daily settlement price calculated at 3 p.m. ET, for subsequent
clearing into the existing products.
TAS enables clients to achieve execution at or near the settlement price, making it
particularly useful when replicating an index.
Eligible products: ZT, ZF, ZN, TN, ZB, UB
Eligible contracts: Front month and calendar spreads during roll
USD Swap Clearing: New research finds stable CCP basis, efficiencies to be gained for invoice swap spreads
We analyzed the evolution and volatility of the CCP basis, and the clearing costs
associated with invoice swap spreads. Here are three of the key findings:
In recent years the CCP basis has been highly stable with vol < 2.5% of equivalent
swap rates.
For invoice swap spreads, margin savings available via portfolio margining can
easily outweigh potential costs associated with managing the basis.
There is a clear advantage available to participants who clear swaps/futures RV
strategies at CME Group.
SOFR ecosystem is bigger than you may realize
SOFR usage hit new records in September:
SOFR futures OI surpassed a record 1M contracts for the first time.
SOFR futures ADV hit a new monthly high of 136K contracts/day (chart).
Cleared SOFR swaps volume surpassed $75B, a new monthly high (excluding discounting transition), with outstanding notional rising to a record $277B (chart).
What's more, the broader SOFRlinked picture is one of even greater liquidity:
Post-June 2023 Eurodollar contracts, which are linked to SOFR via fallbacks and the ISDA spread of 26.161 bp, boosted total SOFR-linked exposure to over 20 million in open interest.
The strongly growing SOFR futures and SOFR-linked Eurodollar market is expected to provide liquidity for the fast-growing needs of the marketplace.
Term SOFR developments
On Sept. 8, ISDA added CME Term SOFR to its definitions via Supplement 84.
On Sept. 21, CME Group began publishing 12-month Term SOFR in addition to the existing 1-, 3-, and 6-month tenors.
Term SOFR fixings are now available via the Bloomberg BTMM screen.
In a webcast with LSTA, CME Group's Global Head of Data Services, Trey Berre, shares what lenders and investors need to know about licensing Term SOFR.
In a Q&A with OpenMarkets, ARRC chair, Tom Wipf, shares insights into the decision behind the committee's selection of CME Group's term rates.
Will inflation pressures push the BoE to tighten in 2021?
According to the prices of MPC SONIA futures, market expectations for a 2021 BoE rate hike are on the rise following a surprisingly hawkish tone from the MPC, which cited concerns over inflation persistence at its September meeting.
As a precise hedging instrument aligned to BoE meeting dates, CME MPC SONIA futures also inform the CME BoEWatch tool which calculates the probability of a rate move at upcoming MPC meetings.
Published on 30 September 2021. Original report published on CME Group.