New SOFR transition resources
As the transition from Eurodollars (ED) to SOFR accelerates, we've developed two new resources to help clients better navigate the transition:
SOFR options see record volume and OI as SOFR's share of trading rises to new highs
Volatility in U.S. rates has not slowed down the transition to SOFR. Rather, adoption has accelerated across futures, options, and swaps.
ADV grew to 1.6M contracts in March (62% of ED).
OI rose to 4.56M contracts (42% of ED) as of Apr. 5.
SOFR's share of ED trading increased for nine consecutive weeks, reaching a weekly high of 69% and a daily high of 80%.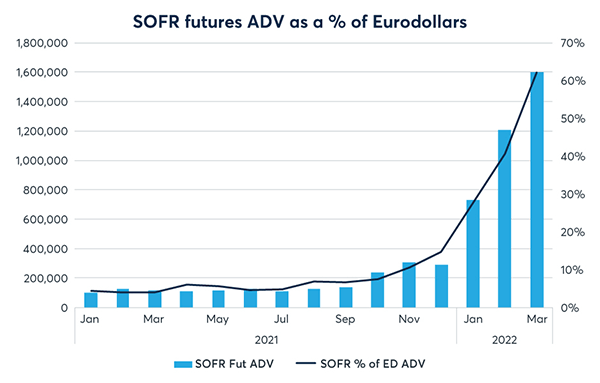 Volume hit a record 139K contracts on Apr. 5.
OI surpassed 1.55M contracts on Apr. 5.
Improved liquidity with new market makers entering each week.
70+ participants YTD, including over 50 of the top 100 Eurodollar options firms.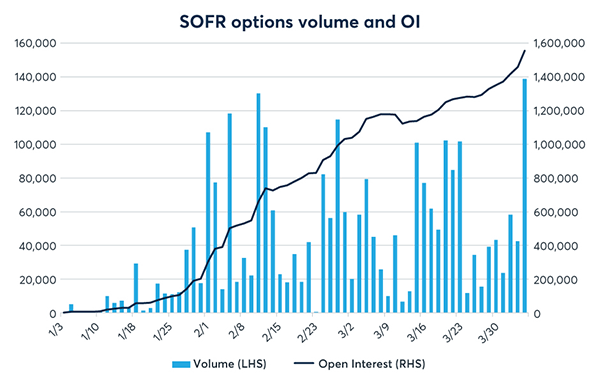 SOFR swaps volume averaged a record $15.6B notional/day in March.
SOFR-indexed trades represented 65% of the USD trades cleared at CME, up from 50% in February.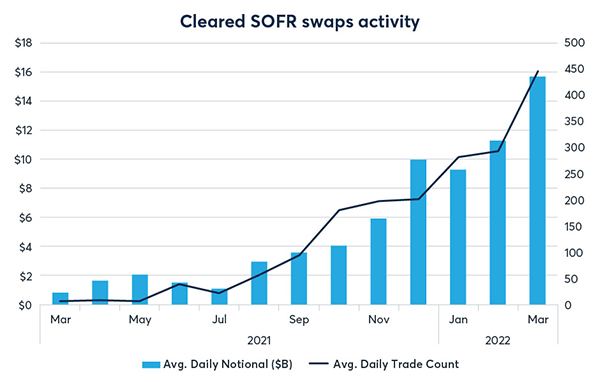 All charts and data sourced from CME Group
Published on 7 April 2022. Original report published on CME Group.