SOFR futures see record activity in Q1 as participant pool deepens
Trading volume in CME SOFR futures rose to 112K contracts ($232 billion in
representative notional*) per day in Q1 2021, representing a 61% increase QoQ and a 98% increase YoY.
With liquidity extending across time zones, ADV during non-US hours surged 172% QoQ to over 20K contracts.
Open interest hit multiple highs throughout the quarter, reaching 765K contracts on Mar. 1.
Large holders of open interest in SOFR futures grew to a record 196**.
Participation deepened to 550+ global participants.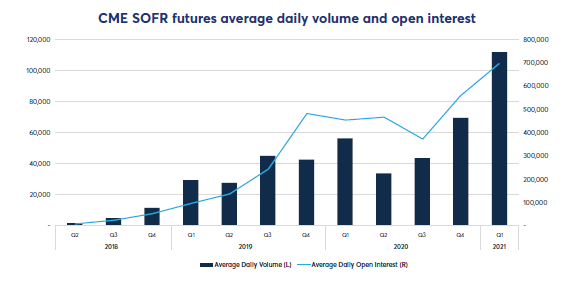 Treasury futures activity soars, Ultra 10's outsized growth continues

Q1 2021 highlights:
Treasury futures ADV +50% QoQ to 5.2M contracts, the second highest quarterly ADV ever.
Treasury futures OI +16% YTD to 13.6M contracts, with large open interest holders +12% to 1,536**.
Ultra 10-Year futures saw record quarterly ADV of 412K contracts while OI surged 39% YTD to a record 1.4M contracts on Mar. 31.
3-Year futures saw record quarterly ADV of 9,065 contracts and record OI of 15.7K contracts as participation expanded to 130+ global participants.
Invoice spreads ADV +107% QoQ to 131K contracts.
Inter-commodity-spreads ADV +65% QoQ to 31K spreads (130K contracts) per day.
Treasury options ADV +67% QoQ to 1.1M contracts, with OI hitting a 10-month high of 7.5M contracts on Mar. 25.
Options volumes were especially strong during non-US hours with overnight ADV +86% QoQ to 262K contracts.
Published on 12 April 2021. Original report published on CME Group.