CME Group announced yesterday that it will not reopen its physical trading pits that were closed last March due to the outbreak of the COVID-19 pandemic.  The Eurodollar options pit, which was reopened last August, will remain open, allowing these contracts to continue to trade in both open outcry and electronic venues.
CME Group also announced that, subject to regulatory review, it will delist its full-size, floor-based S&P 500 futures and options contracts following the expiration of the September 2021 contracts on September 17, 2021. Open interest that remains after the delisting will be migrated into the E-mini S&P 500 futures and options contracts that are available electronically on CME Globex.  All individual trading positions will be converted into the corresponding E-mini S&P 500 contracts with the matching expiration date and strike price for options at the current 1:5 ratio.
Rates

Treasuries: As exploding US debt collides with other macro crosscurrents to create uncertainty with respect to inflation, unemployment, and GDP, total cost-minded investors are turning to CME Group's liquidity pools and tools to manage elevated risks.
Treasury futures volume surged to 5.2M contracts/day in Q1, the second highest quarterly ADV ever.
Open interest has climbed 18% YTD to 13.8M contracts, with outsized growth in the belly of the curve – TN OI +50%, ZN OI +30%.
Treasury options are averaging over 1 million contracts/day.
Navigate record issuance with innovative tools for Treasury auctions and Fed's balance sheet within the CME TreasuryWatch tool.
Read our latest note exploring the impact of the current debt regime and the tools available for efficiently managing associated risks.
FX
The latest Macro Hive notes that even though interest rate hikes look quite distant, the Bank of Canada tapering decision has forced investors to consider the market impact of an unwinding of monetary policy stimulus. And with strong equity market outperformance over the past year, we may transition into a short period of lower but stable returns with higher-yielding Canadian bonds becoming more attractive
Metals: 
COMEX ALI Average Daily Volume reached a record 478 contracts in April, 32% higher than the previous record set in July of 2020.  Furthermore, the top four volume days in COMEX ALI were all set during April 2021, each with daily trading volume over 1,000 contracts.
As the price of aluminum charges higher, COMEX ALI futures offer transparent pricing and a liquid order book for electronic execution.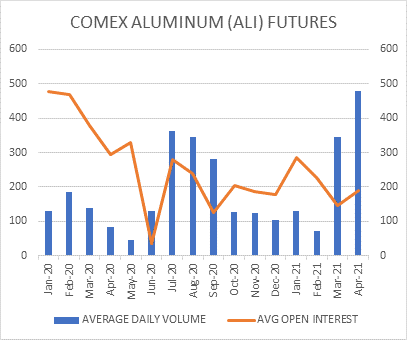 CMEG Monthly Volume Stats
CME reported April 2021 market statistics, including average daily volume (ADV) of 16.4 million contracts during the month. Market statistics are available in greater detail at https://cmegroupinc.gcs-web.com/monthly-volume.
April product highlights include :
Interest Rate ADV grew 4% from April 2020
Foreign Exchange ADV increased 15% from April 2020
Agricultural ADV rose 24% from April 2020, with volume from Europe increasing 49% to a record 355K and volume from Asia increasing 62%

Agricultural options ADV increased 65% over April 2020
SOFR futures reached the third highest monthly ADV on record, increasing 295% from April 2020

SOFR futures ADV in Europe grew 275%, and ADV in Asia reached a record 19,000, representing 461% growth
SOFR open interest reached a record of 818,994 on April 30
BrokerTec European Repo average daily notional volume (ADNV) grew 10% from April 2020, the second highest month on record.
EBS Direct FX ADNV grew 51% from April 2020
Watch our economist Blu Putnam talk about the solid start to the U.S. economy this year which is growing at an annualized pace of 6.4% in the first quarter and setting the stage for growth to reach nearly 10% in 2021 as stimulus spending and vaccine distribution restore consumer confidence. But structural changes in the makeup of the workforce may challenge the recovery in 2022, learn more in this 3 minute video.
Daily Volume Tracker w/ Micro Split – ADV (000s)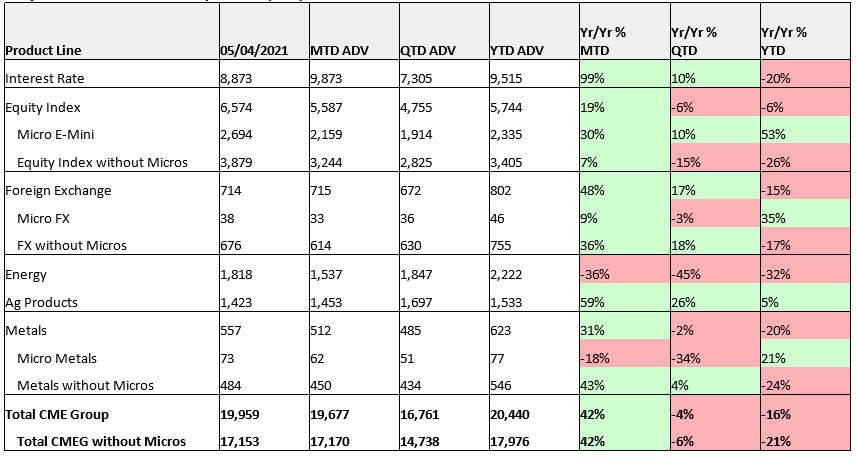 Daily Volume Tracker w/ Micro Split – Open Interest (000s)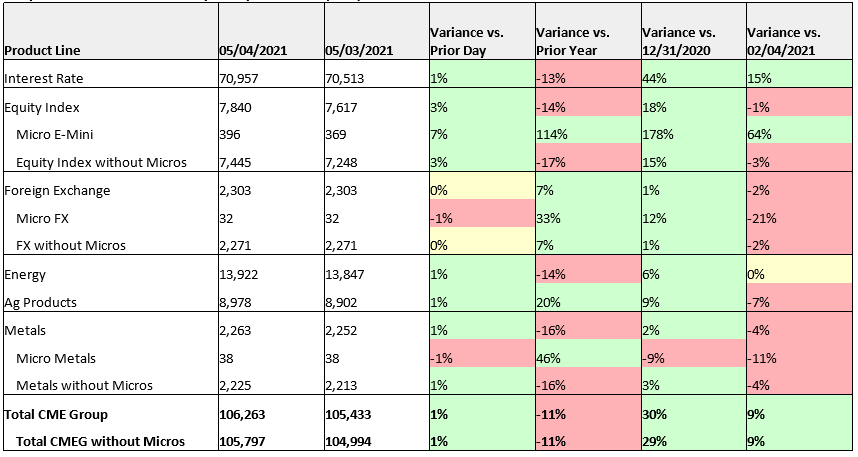 Original report published on CME Group.
Neither futures trading nor swaps trading are suitable for all investors, and each involves the risk of loss.  Swaps trading should only be undertaken by investors who are Eligible Contract Participants (ECPs) within the meaning of Section 1a(18) of the Commodity Exchange Act.  Futures and swaps each are leveraged investments and, because only a percentage of a contract's value is required to trade, it is possible to lose more than the amount of money deposited for either a futures or swaps position.  Therefore, traders should only use funds that they can afford to lose without affecting their lifestyles and only a portion of those funds should be devoted to any one trade because traders cannot expect to profit on every trade.
CME Group, the Globe Logo, CME, Globex, E-Mini, CME Direct, CME DataMine and Chicago Mercantile Exchange are trademarks of Chicago Mercantile Exchange Inc.  CBOT is a trademark of the Board of Trade of the City of Chicago, Inc.  NYMEX is a trademark of New York Mercantile Exchange, Inc.  COMEX is a trademark of Commodity Exchange, Inc. All other trademarks are the property of their respective owners.
The information within this communication has been compiled by CME Group for general purposes only. CME Group assumes no responsibility for any errors or omissions. Additionally, all examples in this communication are hypothetical situations, used for explanation purposes only, and should not be considered investment advice or the results of actual market experience.  All matters pertaining to rules and specifications herein are made subject to and superseded by official CME, CBOT, NYMEX and COMEX rules. Current rules should be consulted in all cases concerning contract specifications.
Copyright © 2021 CME Group Inc. All rights reserved