SOFR Futures Volume Outpaces Eurodollar Futures Volume for the First Time
For the first time ever, SOFR Futures volume exceeded Eurodollar Futures volume on April 19th, as acceleration of SOFR adoption continues. SOFR Futures traded 1.37M contracts, while Eurodollar Futures traded 1.33M contracts. Market participants can track these developments in the Daily SOFR/Eurodollar Market Update report – A daily snapshot of trading activity in SOFR contracts relative to Eurodollars. The link is updated each evening with the previous day's data.
Subscribe to receive this report daily (scroll down to "Interest Rate Reports" and select "Daily SOFR/Eurodollar Market Update"
Transition FAQ – Learn about Eurodollar fallbacks and ways to shift positions prior to June 2023.
Micro Treasury Futures Reports 2022 Record Volume
Micro Futures volumes have seen a recent spike in volume and OI, reporting a 2022 daily high of over 13k contracts traded and 7.4k in OI. With heightened market volatility stemming from the upcoming FOMC meeting on May 4th, Micro Treasury Futures volumes have seen significant attention to mitigate risk against potential rate hikes, especially as the CME FedWatch Tool indicates a 93% probability of a 50+ bps increase as of 19th April.  Since their August 2021 launch, Micro Treasury Yield Futures have traded over 1.3 million yield futures contracts, allowing participants to trade smaller-sized contracts that are cash-settled, quoted in yield, and settled on-the-run via BrokerTec benchmark rates.
Below depicts the recent spike in trading through 2022 amongst the Micro Treasury Futures' unique 1,705 unique participants:
Specifically, the 10Y has seen increased liquidity, reporting a 5-Day Rolling ADV of 9,993 contracts. Below highlights the levels where the Micro 10-Year Yield's curve closed as of 18th April.
CME's Natural Gas Futures contracts allow traders to manage risk around the clock. In addition to the physically deliverable Henry Hub Natural Gas Futures contract (NG), CME offers a suite of other products, including the Natural Gas Last-day Financial Futures (HH) and the E-mini Natural Gas Futures (QG), which cater to a variety of unique trading preferences.
To date:
In 2022, combined Henry Hub Futures average daily volume during non-US hours was 47k lots, a 9% increase from 2021 year-to-date.
In Q1 2022, non-US hours trading activity represented over 11% of Henry Hub Futures trades during the period, a new record.
Henry Hub Futures combined average daily open interest is 1.61m in 2022 year-to-date, up 3% from the same period in 2021.
Henry Hub Natural Gas Options (LN), which allow traders to hedge their futures positions, average daily volume is 109k in 2022 year-to-date, a 14% increase from the same period last year.
Learn more about CME's suite of Natural Gas products here.
CME announced plans to launch E-mini S&P 500 Tuesday and Thursday options starting April 25th, pending regulatory approval. The new options offer more opportunities to manage short-term equity exposure with more choices to trade throughout the week. The contracts complement the existing suite of Quarterly, End-of-Month, and Monday, Wednesday, and Friday Weekly options. These options settle into E-mini S&P 500 futures, which have averaged 1.9M contracts daily. Learn more here.
Get actionable insights on the latest market opportunities and how to trade them using FX options on futures in the latest "Excell with Options report". Benefit from the experience Rich Excell, a widely followed veteran institutional trader who successfully managed multi-billion portfolios throughout his career. In this week's report, Rich reviews two strategies leveraging exposure to JPY and MXN based on fluctuating levels of volatility in the FX Markets utilizing CME FX Options. Read the report and reference CME Group's Volatility Index (CVOL) and the CME QuickStrike tool to help inform your trading decisions.
The Q2 '22 metals update includes the latest on our efforts in Aluminum and the launches of micro copper, weekly options, and steel. We also have 10 event-based contracts coming soon! View the full update here.
Navigate open interest in the Agricultural options market effortlessly with the Open Interest Heat Map.
As we enter the summer months, keep track of major shifts in open interest by strike to provide the latest analysis to your clients.
November $21 calls have 8K contracts of open interest as of April 14 – is that information that could be valuable to your clients? Watch the video to Learn More.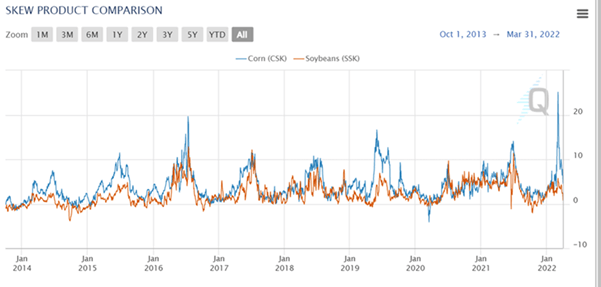 Original report published on CME Group.
Neither futures trading nor swaps trading are suitable for all investors, and each involves the risk of loss.  Swaps trading should only be undertaken by investors who are Eligible Contract Participants (ECPs) within the meaning of Section 1a(18) of the Commodity Exchange Act.  Futures and swaps each are leveraged investments and, because only a percentage of a contract's value is required to trade, it is possible to lose more than the amount of money deposited for either a futures or swaps position.  Therefore, traders should only use funds that they can afford to lose without affecting their lifestyles and only a portion of those funds should be devoted to any one trade because traders cannot expect to profit on every trade.
CME Group, the Globe Logo, CME, Globex, E-Mini, CME Direct, CME DataMine and Chicago Mercantile Exchange are trademarks of Chicago Mercantile Exchange Inc.  CBOT is a trademark of the Board of Trade of the City of Chicago, Inc.  NYMEX is a trademark of New York Mercantile Exchange, Inc.  COMEX is a trademark of Commodity Exchange, Inc. All other trademarks are the property of their respective owners.
The information within this communication has been compiled by CME Group for general purposes only. CME Group assumes no responsibility for any errors or omissions. Additionally, all examples in this communication are hypothetical situations, used for explanation purposes only, and should not be considered investment advice or the results of actual market experience.  All matters pertaining to rules and specifications herein are made subject to and superseded by official CME, CBOT, NYMEX and COMEX rules. Current rules should be consulted in all cases concerning contract specifications.
Copyright © 2022 CME Group Inc. All rights reserved