S&P 500 Adjusted Interest Rate Total Return futures reached a new open interest record, breaking 200K for the first time. Q1-22 ADV accelerated to a record 4K, +110% vs. FY 2021, as new client participation increases.
Learn more about use cases for trading AIR TRFs, which use calendar spreads to risk manage or take a view on the equity financing curve, here. There are more ways to access total return exposure, now available on US benchmarks and FTSE 100.
20-Year US Treasury Bond Futures – Over 12,000 Contracts Traded in First Month 
Launched on March 7th, 20-Year US Treasury Bond futures have traded over 12,000 contracts. In its first month, the contract saw an ADV of approximately 700 contracts traded per day from over 60 participants with Open Interest reaching 2,715 contracts.  High participation within its first month highlights the unique value proposition and market need to manage risk at the longer-end of the curve that comes in a high volatility environment.
Consistent liquidity is available on Globex (symbol TWE).
The 20-Year T-bond futures offer the ability to trade the 20Y futures-cash basis or hedge neighboring swap exposures at the 20-year tenor. Below are key contract specs, which can also be found on CME's 20-Year Futures homepage:
Product code: TWE
Size: $100,000
MPI: 1/32 of one point (0.03125) = $31.25
Initial listings: June-22; Sept-22; Dec-22
Block minimum: 1,000 RTH; 500 ETH; 250 ATH
Deliverable grade: Original issue 20s, 19 years 2 months – 20 years.
April 2022 Rates Recap now available read here.
CME Group announced that it will expand its suite of micro metals products with the launch of Micro Copper (MHG) on May 2, 2022, pending regulatory review. The contract will be cash-settled and be 1/10th the size of the full-size contract (HG). Micro Copper futures will be listed by and subject to the rules of COMEX.
For more information, please visit here. Also announced this week are the listing of Mon & Wed weekly options contracts on Gold, Copper & Silver on May 2. SER here.
WTI crude oil options experienced a strong start to 2022, with Q1 volumes showing increased levels from previous quarters. Both monthly WTI Crude Options and weekly WTI Crude Options attracted participation from traders both domestically and internationally, leading to new records to be reported for the quarter.
Record Non-US hour activity in monthly WTI crude options led to 22% of volume originating during extended trading hours.
Overall Q1 ADV for monthly WTI crude options was over 151k and average open interest was above 2.24M, up 25% and 30% from Q1 2021 respectively.
Weekly WTI crude options saw a record ADV of 6,268 in Q1 2022, continuing its seven-quarter streak of increasing volumes. This figure was up 160% from the same period last year.
25% of volume in weekly WTI crude options came during Non-US hours, the highest percentage of extended trading hour activity seen since Q1 2020.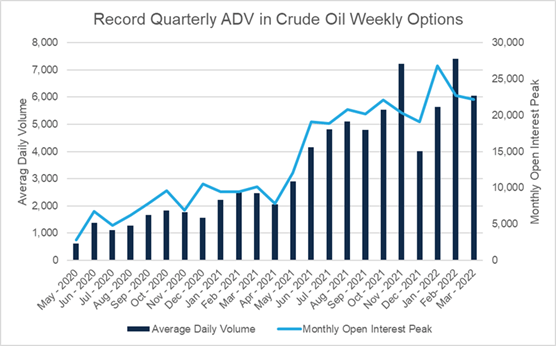 CME offers options on all global benchmark products, providing traders the ability to actively manage their portfolios around the clock. Traders can explore analytics to generate trade ideas utilizing QuikStrike, a tool developed by CME to enable traders the ability to obtain a full picture of how Energy options can be used in trading activities.
A growing number of buy-side customers and liquidity providers have recognized the potential efficiencies of using central clearing for FX forwards, NDFs and FX options. More than 20 liquidity providers are now facilitating blocks and EFRPs in CME listed FX products, allowing clients to lean on OTC liquidity and trade on a disclosed, relationship basis. Year-to-date volumes in FX blocks and EFRPs are up more than 280% versus 2021. Find out more about this trend, including feedback from BNP, Morgan Stanley, Optiver, Santander, SIG, and Societe Generale. Read More and access the FX F&O Block and EFRP quick reference guide.
See what's new in agricultural options including trends, historical records and trading activity across Wheat, Corn, Lean Hogs and more.
CVOL historical volatility indexes now available back to 2014 for Corn and Soybeans. The expanded dataset helps put in content the current volatility and skew faced in today's market, specifically for corn.
The Grain and Oilseed markets are currently faced with extreme volatility but using QuikVol  to see historical volatility, 2008 exhibited higher levels.
Ag options had a record Q1 as the market looks to manage risk in uncertain times.  Short-Dated New Crop and Calendar Spread options have particularly become very active given spread dynamics along the futures curve
C-Cross transactions continue to set records as participants find liquidity through the use of brokers in volatile markets
Read the full report here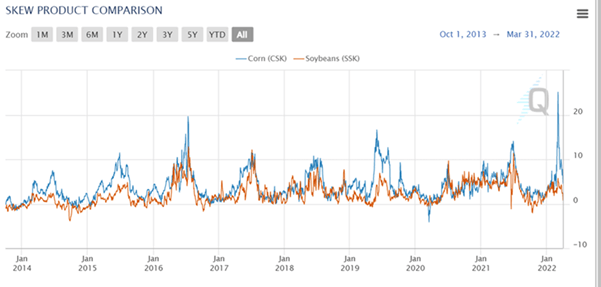 Palm Oil 
The CME USD Palm suite of products struck the second highest quarterly volume record since inception, with a total volume of 68,369 contracts cleared in Q1
With the successful delisting of the swap contract in January, all volumes and O.I. are now centered on the CME USD Malaysian Crude Palm Oil Calendar Futures contract (CPO)
CPO O.I. stands at 49,343 contracts at the end of March, extending out to the Dec 2023 contract
Client interest and activity remains elevated at the end of Q1, as edible oil prices continue to be driven by geopolitical risks, export restrictions and biofuel mandates
Learn more here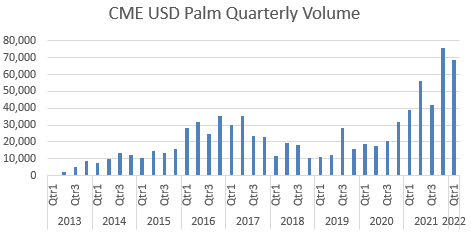 Original report published on CME Group.
Neither futures trading nor swaps trading are suitable for all investors, and each involves the risk of loss.  Swaps trading should only be undertaken by investors who are Eligible Contract Participants (ECPs) within the meaning of Section 1a(18) of the Commodity Exchange Act.  Futures and swaps each are leveraged investments and, because only a percentage of a contract's value is required to trade, it is possible to lose more than the amount of money deposited for either a futures or swaps position.  Therefore, traders should only use funds that they can afford to lose without affecting their lifestyles and only a portion of those funds should be devoted to any one trade because traders cannot expect to profit on every trade.
CME Group, the Globe Logo, CME, Globex, E-Mini, CME Direct, CME DataMine and Chicago Mercantile Exchange are trademarks of Chicago Mercantile Exchange Inc.  CBOT is a trademark of the Board of Trade of the City of Chicago, Inc.  NYMEX is a trademark of New York Mercantile Exchange, Inc.  COMEX is a trademark of Commodity Exchange, Inc. All other trademarks are the property of their respective owners.
The information within this communication has been compiled by CME Group for general purposes only. CME Group assumes no responsibility for any errors or omissions. Additionally, all examples in this communication are hypothetical situations, used for explanation purposes only, and should not be considered investment advice or the results of actual market experience.  All matters pertaining to rules and specifications herein are made subject to and superseded by official CME, CBOT, NYMEX and COMEX rules. Current rules should be consulted in all cases concerning contract specifications.
Copyright © 2022 CME Group Inc. All rights reserved