SOFR Futures Activity Surges to Strong Start for the New Year – Over 2 Million OI
Within the first week of 2022, SOFR Futures broke new records, achieving single-day volume high of 652,342 contracts traded on January 7th, and record Open Interest of 2,049,001 as of latest data (1/10).
The latest CFTC COT report also showed a record 256 Large Open Interest Holders (LOIH) in SOFR Futures as of January 4th. This uptick in market participation demonstrates a strong surge in SOFR adoption across the US Rates market.
The records top a series of strong volume growth in recent months as indicated in the graph below. For more information on SOFR futures, visit CME's homepage.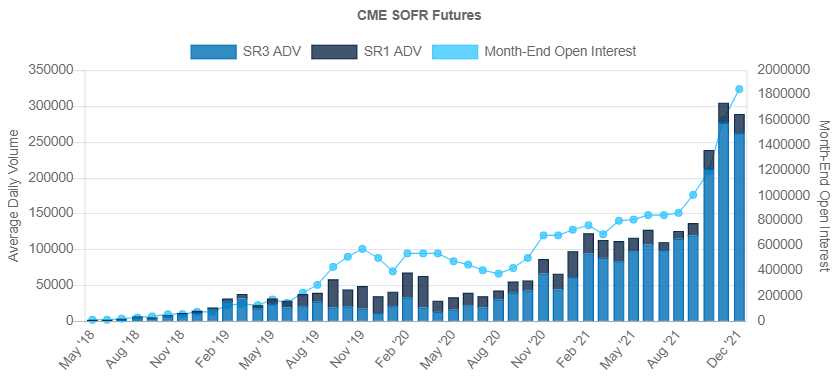 Term SOFR is becoming a preferred benchmark within the USD capital markets, with 2,000 licenses issued across 450 firms in 2021, and growing usage in both legacy contract fallbacks and newly issued financial instruments.
CME Offering 20Y Bond Futures Come March 7
Anchored by a deliverable basket of original issue 20-year Treasury bonds with remaining terms to maturity at delivery between 19 years 2 months and 20 years, 20-Year T-Bond futures will offer greater efficiency and precision in managing 20-year bond exposures.
Contract features include a full suite of inter-commodity spreads vs. established tenors to offer new curve trading opportunities and assist with liquidity development. For more information, visit CME's 20Y contract specs.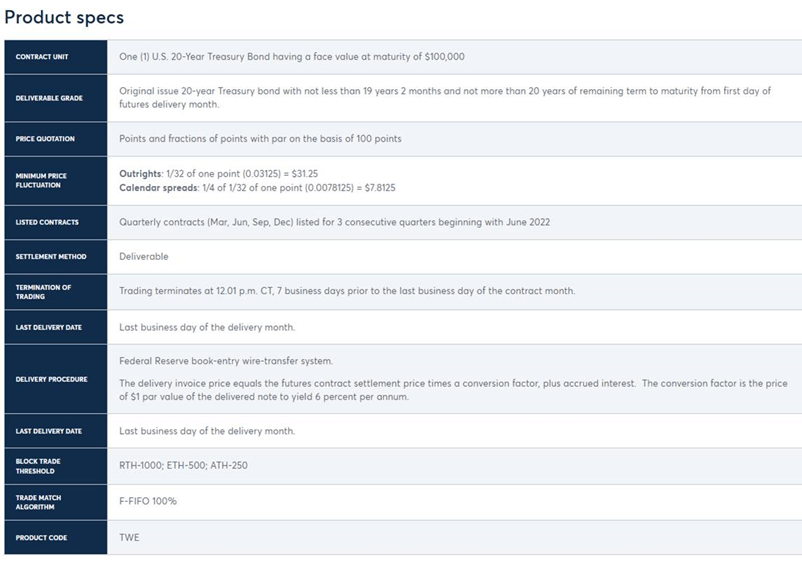 New China Portside Iron Ore Futures are now available to trade. On the first day of trading, Monday, January 10th, 400 lots of PAC (CNH denominated contract) traded across four counterparties and two IDBs. For more information on Portside Iron Ore Futures, see the links below:
The yen was the worst performing currency in 2021, declining by over 10% against the dollar, and is trading at its weakest level since early 2017. Following the yen's rough 2021, could increasing equity market volatility point to a return of yen strength? Macro Hive explores why CME FX Option call spreads could be an attractive hedge. Read More. View the CME FX Options Vol Converter and the JPY/USD Options contract specifications to help inform your trading decisions.
Nasdaq-100 Volatility Index futures (VOLQ) are now available in a smaller contract size as of January 10, 2022. Below are some key facts about the product:
Contract multiplier change date: January 10, 2022.  $100 contract multiplier.
VOLQ futures are an at-the-money measure of Nasdaq-100 index volatility.
Listing Cycle: 3 consecutive monthly contracts.  Calendar spreads for first 3 months available.
Final Settle: cash delivery tied to open market activity in NDX options 8:32-8:37 CT on expiration date.
The VOLQ Index value is derived from volatility implied in 32 NDX Index options, utilizing NBBO (National Best Bid / Offer) data from 3 different exchanges.   The index uses the first two in-the-money call and put options and first two out of the money call and put options, across four different expiration dates, whose expiry is closest to 30 days from today.
Daily Settle: VWAP 2:59:30-2:59:59 CT.
Margin offsets available against CME Equity Index Futures & Options.
To learn more about VOLQ futures, please review the FAQ and Instructional Videos.
In 2021, the Ag options complex posted an all-time ADV record of 274K contracts. The Ag CVOL Index hit an all-time high of 46 in June. The dollar-weighted vega value of the Ag complex reached over $200M in May.
Corn and Soybean Oil options both had record ADV in 2021. When compared to total futures and options volume, both Corn and Soybean Oil set new market share records (27% of all Corn and 9.4% of Soybean Oil volume came from options). Soybean Oil had a record average open interest of 220K in 2021.
Weekly Ag options set an all-time ADV record in 2021 averaging over 8K contracts a day.
C-Cross volume hit an all-time ADV record of 21K contracts, up 36% compared to 2020.
View full report HERE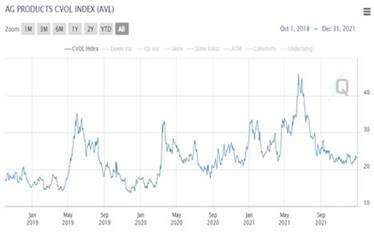 CME Group listed the first ever cleared voluntary carbon offset futures in 2021 – GEO in March and NGO in August. A full list of CME Group's emissions product offerings can be found here. Since the products have been launched:
Approximately 47 million offsets traded on CME in 2021 (47,149 contracts)
Open Interest hit a record 15,331,000 offsets outstanding on 12/29/21, right before the December 2021 expiry/delivery cycle
66% of the offsets traded in 2021 were our nature-based NGO futures (Approx. 31mm offsets), with the remaining 34% of volume coming as trades in GEO futures (Approx. 16mm offsets)
49% of volume was executed on screen vs. 51% of volume submitted as blocks, via Clearport
7 successful delivery cycles took place in 2021 with 6,550,000 offsets going to delivery via the Exchange (60% NGO, 40% GEO)
13 different FCMs facilitated GEO/NGO deliveries in 2021
The popular December delivery cycle saw 90% of all offsets delivered in 2021
More than 47 different firms have traded GEO/NGO to date
NGO settled at $14.08 on 12/31/21, a 163% increase from when the contract launched in August
GEO settled at $8.00 on 12/31/21, a 276% increase from launch in March, and an approximately $6.00 discount to NGO
(Charts below through COB 1/10/22)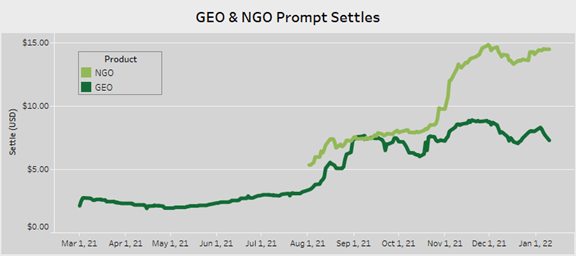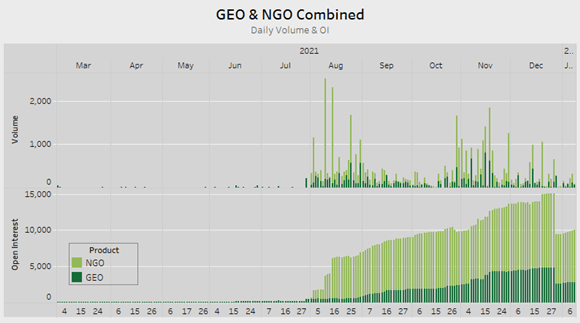 Original report published on CME Group.
Neither futures trading nor swaps trading are suitable for all investors, and each involves the risk of loss.  Swaps trading should only be undertaken by investors who are Eligible Contract Participants (ECPs) within the meaning of Section 1a(18) of the Commodity Exchange Act.  Futures and swaps each are leveraged investments and, because only a percentage of a contract's value is required to trade, it is possible to lose more than the amount of money deposited for either a futures or swaps position.  Therefore, traders should only use funds that they can afford to lose without affecting their lifestyles and only a portion of those funds should be devoted to any one trade because traders cannot expect to profit on every trade.
CME Group, the Globe Logo, CME, Globex, E-Mini, CME Direct, CME DataMine and Chicago Mercantile Exchange are trademarks of Chicago Mercantile Exchange Inc.  CBOT is a trademark of the Board of Trade of the City of Chicago, Inc.  NYMEX is a trademark of New York Mercantile Exchange, Inc.  COMEX is a trademark of Commodity Exchange, Inc. All other trademarks are the property of their respective owners.
The information within this communication has been compiled by CME Group for general purposes only. CME Group assumes no responsibility for any errors or omissions. Additionally, all examples in this communication are hypothetical situations, used for explanation purposes only, and should not be considered investment advice or the results of actual market experience.  All matters pertaining to rules and specifications herein are made subject to and superseded by official CME, CBOT, NYMEX and COMEX rules. Current rules should be consulted in all cases concerning contract specifications.
Copyright © 2022 CME Group Inc. All rights reserved