Micro E-mini futures and options have traded over 1 billion contracts.
In May 2019, Micro E-mini futures on four leading equity indices became the most successful product launch in CME Group history, with over 300K contracts traded on day 1. These contracts have continued to grow in adoption and trading volume since, now achieving over one billion total contracts traded in just two and half years. Sized at a 1/10 of their E-mini counterparts, Micro E-mini futures help traders fine-tune exposure and efficiently hedge risk with greater flexibility.
Micro E-mini futures by the numbers:
Average daily volume of 2.1M contracts across four indices in 2021
Total volume for each Micro E-mini contract: 456M+ in S&P 500 (MES), 413M+ in Nasdaq-100 (MNQ), 69M+ in Dow (MYM), 62M+ in Russell 2000 (M2K)
Global participation since launch: Average daily volume of over 375K+ contracts traded during non-US hours before the cash open
29% of volume came from outside of the United States, with trades submitted from 195+ countries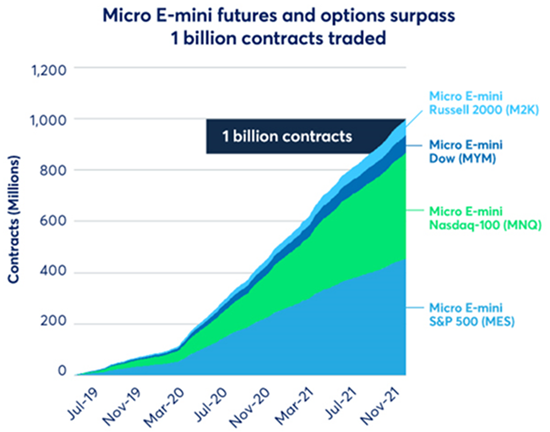 The monthly International Grains Report provides a valuable resource for our regional product offering, highlighting volumes, correlations, market premiums, volatility and more.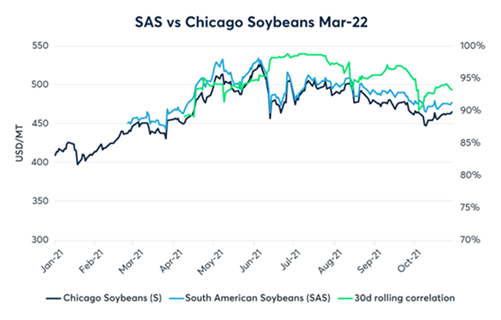 Following the conclusion of the COP-26 in Glasgow last week, interest in environmental products such as Global emissions offsets (GEO) and Nature-based emissions offsets (NGO) futures saw an increase in activity from traders at the beginning of this week. Monday, 15 Nov, concluded a record in combined open interest in both environmental products of 11,806.
The split between the two products continues to hold around 70/30 with 70% open interest attributed to NGO and 30% to GEO.
Volume has also been increasing in GEO and NGO, with Monday, 15 Nov also seeing a top 5 volume day for the combined products with 1,409 lots traded, equating to 1.4m offsets. 60% of that volume was in GEO, contributing to new record day for the product with 800 lots traded.
Approximately 60 unique accounts traded GEO and NGO in November compared to about 40 in October.
In general, over 35,000 lots have traded since the launch of these products and currently the November average daily combined volume for GEO/NGO is at 712, the highest value to date.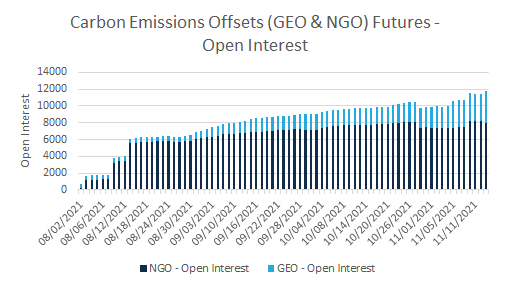 CME's European HRC contract is trading over 1,000 metric tonnes per day in 2021, an increase of over 144% year-over-year. Open Interest also reached a high of nearly 50,000 metric tonnes in 2021 with new participants continually entering the market.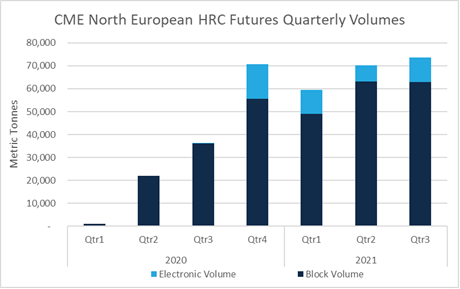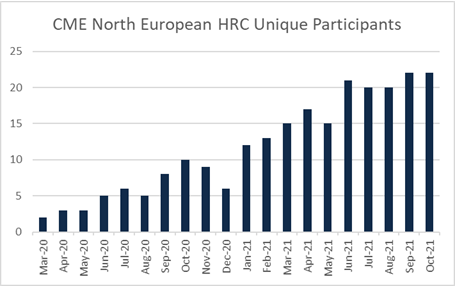 While the majority of the trading occurs within the first 6 months, more trading/hedging is extending out the curve as the market develops. Trading in months 7 to 12 was only 11% of overall trading in 2020, but in 2021 represents 23% of trading activity.

Find out more about our steel product suite here.
Listed FX provides a complementary pool of liquidity that can help to solve credit and margin challenges.
Client adoption has continued throughout 2021, with asset managers holding 44% of open interest (OI) in EUR/USD FX futures as of November 9th and asset manager gross OI across FX futures exceeding $150bn for the first-time last month.
Large open interest holders (LOIH) in FX futures have also risen 15% year-over-year, within 2% of the all-time high level, buoyed by record LOIH in Euro futures as well as strong increases in British pound, Australian dollar, and emerging markets currencies.
Read more on the benefits of CME FX Futures.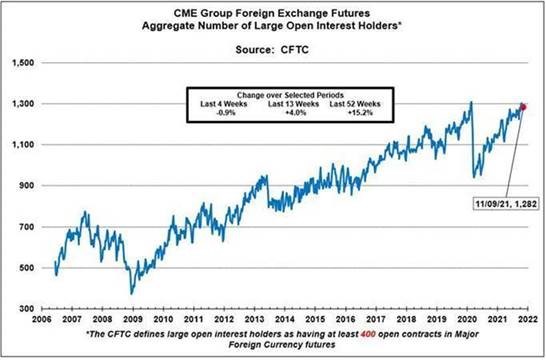 Original report published on CME Group.
Neither futures trading nor swaps trading are suitable for all investors, and each involves the risk of loss.  Swaps trading should only be undertaken by investors who are Eligible Contract Participants (ECPs) within the meaning of Section 1a(18) of the Commodity Exchange Act.  Futures and swaps each are leveraged investments and, because only a percentage of a contract's value is required to trade, it is possible to lose more than the amount of money deposited for either a futures or swaps position.  Therefore, traders should only use funds that they can afford to lose without affecting their lifestyles and only a portion of those funds should be devoted to any one trade because traders cannot expect to profit on every trade.
CME Group, the Globe Logo, CME, Globex, E-Mini, CME Direct, CME DataMine and Chicago Mercantile Exchange are trademarks of Chicago Mercantile Exchange Inc.  CBOT is a trademark of the Board of Trade of the City of Chicago, Inc.  NYMEX is a trademark of New York Mercantile Exchange, Inc.  COMEX is a trademark of Commodity Exchange, Inc. All other trademarks are the property of their respective owners.
The information within this communication has been compiled by CME Group for general purposes only. CME Group assumes no responsibility for any errors or omissions. Additionally, all examples in this communication are hypothetical situations, used for explanation purposes only, and should not be considered investment advice or the results of actual market experience.  All matters pertaining to rules and specifications herein are made subject to and superseded by official CME, CBOT, NYMEX and COMEX rules. Current rules should be consulted in all cases concerning contract specifications.
Copyright © 2021 CME Group Inc. All rights reserved