Dynamic Circuit Breakers (10%) will be implemented for the following products effective for trade date Monday, July 12:
Platinum/Palladium Spread Futures
Gold/Platinum Spread Futures
Gold/Silver Ratio Futures
Aluminum Futures
Shanghai Gold (USD) Futures
Shanghai Gold (CNH) Futures
Cobalt Metal (Fastmarkets) Futures
Iron Ore 62% Fe, CFR China (TSI) Futures
S. Midwest Domestic Hot-Rolled Coil Steel (CRU) Index Futures
S. Midwest Domestic Steel Premium (CRU) Futures
With this implementation, there are no longer any metals products with static circuit breakers as seen here.
More information on the amendments to the relevant COMEX rule can be found here.
For general information related to Dynamic Circuit Breakers, please visit this link; you can also find general information on Price Limits and Circuit Breakers here.
E-mini Nasdaq-100 Monday and Wednesday Options
3000 contracts ADV since launch on 4/12
Record 8000+ contracts traded on 6/21
Strong contribution from retail, primarily from 2 platforms
Please find our Equity Index Options Expiration Calendar here.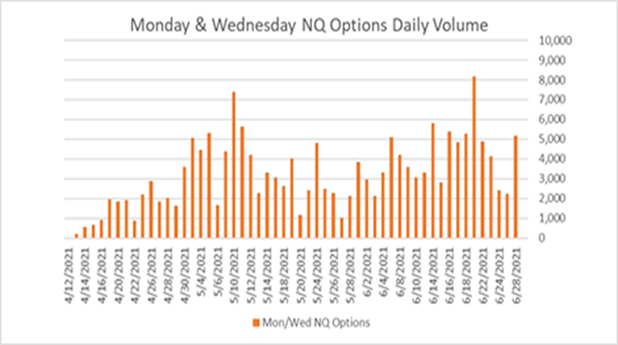 Micro E-mini Nasdaq-100 Options
MNQ options ADV was ~2500 contracts in May, and ~1800 contracts in June (vs. ~500 ADV in 2020)
MNQ options gaining ground against Micro E-mini S&P 500 options counterpart in terms of volume contribution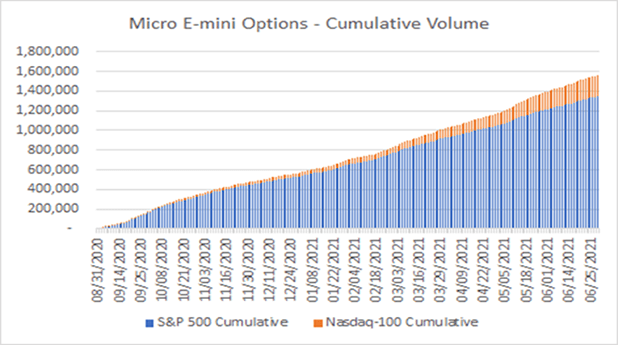 E-mini S&P 500 Select Sector Futures
Sectors gained momentum through the Q2-21 Roll:
ADV YTD is around 15k – running at record levels vs. any prior year.
June ADV is 27,100 (+248% vs. May-21) and OI is averaging 200K (+10% vs. May-21)
Record Volume of 175,511 trades on June 11th, 2021
Record OI of 254,879 on June 15th, 2021
A list of our Select Sector Index Futures can be found here.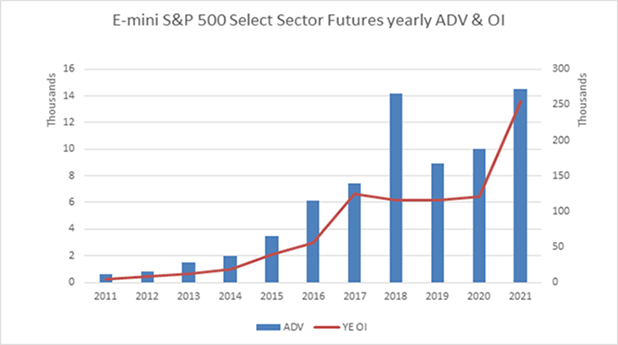 The Ag complex has seen strong Q2 growth in options internationally with ADV across EMEA, APAC, and Latam up over +300% vs Q2 2020. This coincides with the increased use of short-dated options internationally, up close to +600% vs Q2 2020.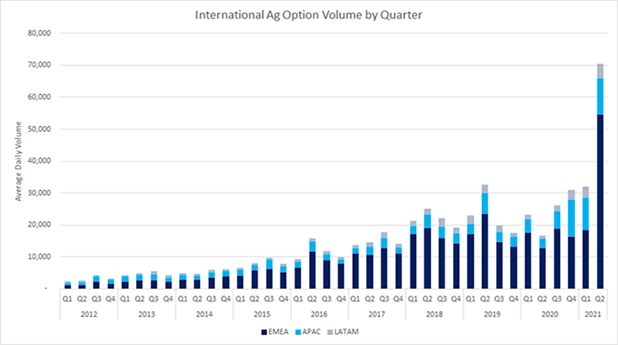 SOFR Futures Open Interest hit a record 850,245 contracts as of July 1st, reflecting the increasing pace of adoption across market participants. In June, SOFR Futures achieved record single-day volume of 342k contracts, and the CFTC Commitment of Traders report showed over 200 Large Open Interest Holders. SOFR Futures YTD ADV of 114k is up 154% YoY.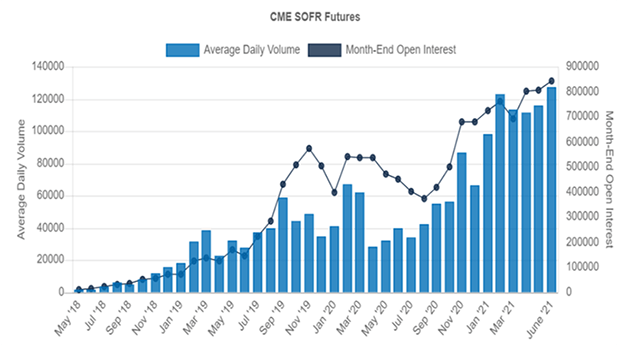 Based on the success of the minimum price increment (MPI) reduction in AUD FX futures, CME has announced an MPI reduction in outright NZD FX futures from 1 tick to 0.5 tick that will go into effect Monday, August 16, 2021. The MPI reductions in both outright AUD FX futures as well as in the quarterly roll spreads of all G5 FX futures have delivered enhanced price discovery and enabled customers to trade listed FX more cost effectively. During the main roll period in June, ~$1.1 trillion of CME FX futures traded, which included increased roll activity from hedge funds (+34%) and asset managers (+16%), leading to an average of 80.4% of open interest in the G5 currency pairs being transferred to the September contract. Additional information of the MPI reduction can be found here.
Dynamic Circuit Breakers (4%) will be implemented for the following FX products effective for trade date Monday, July 12:
Euro FX Futures
Canadian Dollar Futures
British Pound Futures
Japanese Yen Futures
Australian Dollar Futures
New Zealand Dollar Futures
Swiss Franc Futures
Norwegian Krone Futures
Swedish Krona Futures
Additional information on these product amendments can be found here.
On July 12th, CME is launching new financially-settled Dutch TTF Natural Gas futures & options contracts. This launch will include three new TTF futures products in addition to one TTF options contract. Customers accessing CME's global gas benchmark, Henry Hub, are increasingly trading our TTF futures and options products. The expansion of the global gas product suite means that customers can hedge all their natural gas risk on NYMEX.  Please find these links to the SER, and product information.
Micro Crude Oil futures (MCL) are also being launched on July 12th. The launch of MCL responds directly to customer demand for a smaller, more precise instrument for managing crude oil price exposure. At one-tenth the size of the benchmark WTI contract, the Micro WTI futures product offers more granularity and smaller capital requirements with the same robust transparency and price discovery of the larger WTI futures contract. Learn more about MCL with the following resources: SER, FAQ & Micro Suite landing page.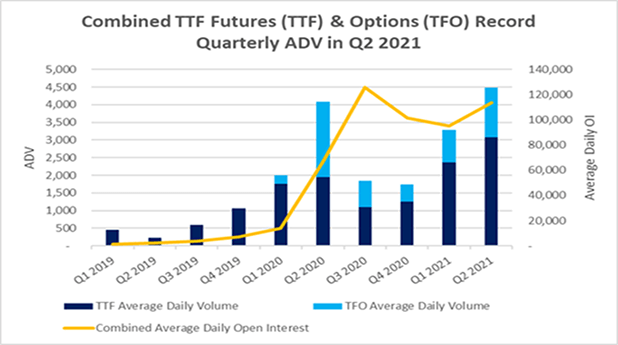 Managing Director and CME Chief Economist Blu Putman's latest video compares the economic disruption during the pandemic of 2020 and the Great Recession of 2008 in terms of their differing causes, policy initiatives and economic responses, with the Fed's support in 2008 being critical to putting a floor under the financial crisis, while massive fiscal spending played a key role in returning real GDP to pre-pandemic levels. In both cases, equities were the first to recover followed by economic expansion, while the recovery in jobs lagged behind.  Watch it here.
Daily Volume Tracker w/ Micro Split – ADV (000s)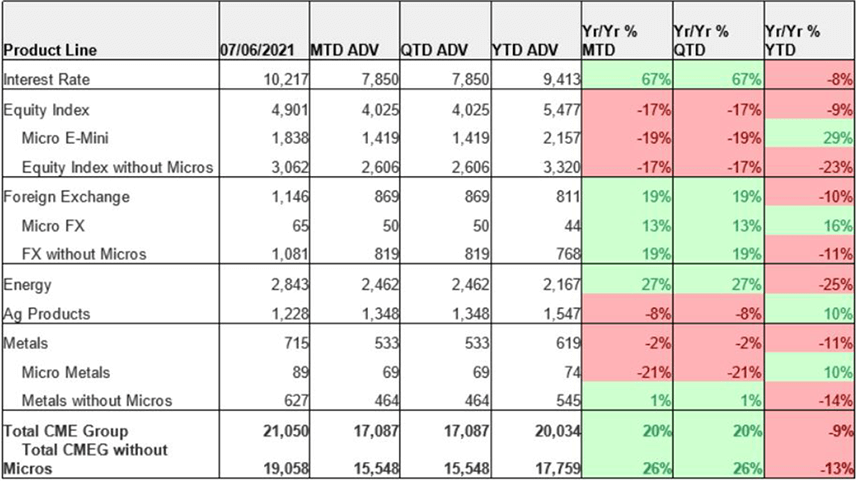 Daily Volume Tracker w/ Micro Split – Open Interest (000s)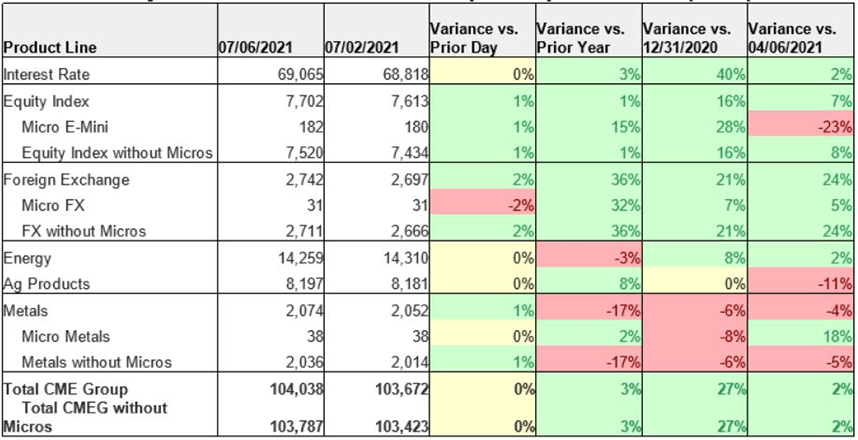 Original report published on CME Group.
Neither futures trading nor swaps trading are suitable for all investors, and each involves the risk of loss.  Swaps trading should only be undertaken by investors who are Eligible Contract Participants (ECPs) within the meaning of Section 1a(18) of the Commodity Exchange Act.  Futures and swaps each are leveraged investments and, because only a percentage of a contract's value is required to trade, it is possible to lose more than the amount of money deposited for either a futures or swaps position.  Therefore, traders should only use funds that they can afford to lose without affecting their lifestyles and only a portion of those funds should be devoted to any one trade because traders cannot expect to profit on every trade.
CME Group, the Globe Logo, CME, Globex, E-Mini, CME Direct, CME DataMine and Chicago Mercantile Exchange are trademarks of Chicago Mercantile Exchange Inc.  CBOT is a trademark of the Board of Trade of the City of Chicago, Inc.  NYMEX is a trademark of New York Mercantile Exchange, Inc.  COMEX is a trademark of Commodity Exchange, Inc. All other trademarks are the property of their respective owners.
The information within this communication has been compiled by CME Group for general purposes only. CME Group assumes no responsibility for any errors or omissions. Additionally, all examples in this communication are hypothetical situations, used for explanation purposes only, and should not be considered investment advice or the results of actual market experience.  All matters pertaining to rules and specifications herein are made subject to and superseded by official CME, CBOT, NYMEX and COMEX rules. Current rules should be consulted in all cases concerning contract specifications.
Copyright © 2021 CME Group Inc. All rights reserved