The COMEX Aluminum Futures contract (ALI) continued to display positive signs of development during the month of July. Average Open Interest rose 89% MoM in July to 477 contracts (11.9k MT), the highest level in more than 17-months. Average daily volume rose +20% MoM in July to 687 contracts (17.2k MT), the second highest monthly total on record and a 90% increase YoY. Trading during the first week of August has been exceptionally strong, with an average daily volume of 2,256 contracts.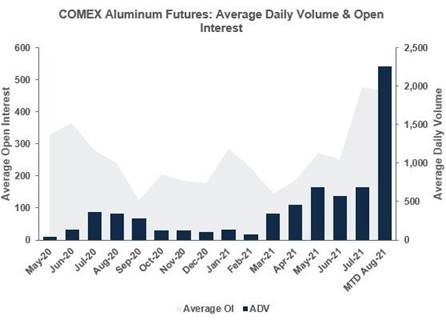 On Friday August 6th,  Micro Crude Oil futures (MCL) crossed an important milestone of 1 million traded since launch. Despite the low volatility environment in WTI Crude markets, strong activity in MCL is reflective of the robust client demand and the vital role WTI Crude plays in commodity trading. A press release was published along with testimonials from our retail channel partners.
Additional stats to demonstrate the high level of participation we have seen in the market:
29% of MCL volume is traded during Non-US Hours (5.00 PM – 7.00 AM CST) which is higher than CL futures with 20% of CL futures traded during Non-US hours
Open Interest in MCL has grown steadily since launch with OI on 6 Aug at high of 12,018 contacts, up from 662 contracts on 12 July (Chart Below)
Participation from 14 liquidity providers in MCL as of Aug 6th
Over 80 unique firms participating in MCL
Over 9,000 unique users trading MCL since launch (Chart Below)
Over 4,000 MCL participants have not traded any other crude products (CL or QM futures) in 2021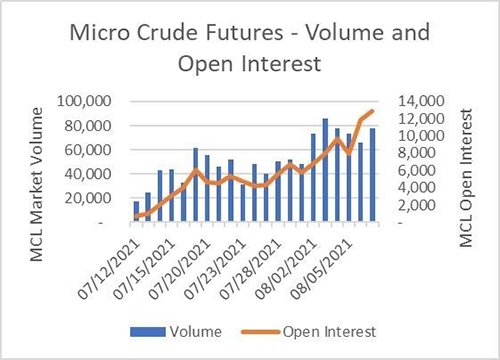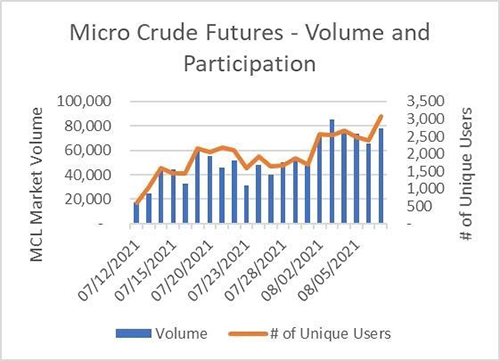 On August 3rd, the CFTC reported FX Futures Large Open Interest Holders (LOIH) of 1,247 (+17% YoY), approximately 5% below the all-time high-level set-in February 2020 (1,310) and +33% from the March 2020 low (941). Asset managers have primarily driven this increase, with recent record asset manager net long positions set in EUR (384k; $56.6bn), CAD (71.9k; $5.8bn) and GBP (26.4k; $2.3bn). LOIH growth in the emerging market currency pairs has also been strong, with EM LOIH of 322 +32% YoY and recent records in ZAR (44 on 3 Aug), RUB (58 on 6 Jul) and EUR/JPY (29 on 3 Aug).
SAS volume in June: futures volume of 3,160 lots; open interest of 873 lots at month-end. Black Sea wheat volume in June: futures volume of 31,379 lots (new record high), 500 lot's options traded; open interest (across F&O) of 24,780 lots at month-end. Get the latest highlights for international grains here.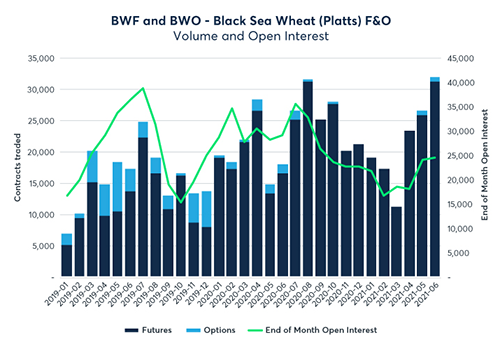 S&P 500 Annual and Quarterly Dividend Futures trading continues to grow, offering market participants the opportunity to hedge a view on the U.S. dividend market. S&P 500 Annual Dividend futures (SDA) YTD ADV is 3,243 (+20% vs. 2020) and OI is averaging 789.2K (+19% vs. 2020). S&P 500 Quarterly Dividend futures (SDI) Q3-21 ADV to-date is 261 and OI is averaging 4.8K. There was a record 2,352 SDI contracts traded on July 27th.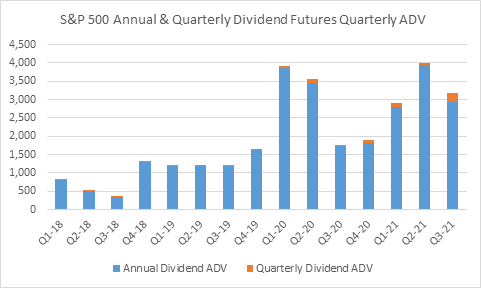 Micro Treasury Yield Futures launch this upcoming Monday, August 16, 2021. As noted below, the listings include Micro 2-Year, 5-Year, 10-Year, and 30-Year Yield Futures contracts. All contracts are micro sized, traded in yield terms and cash-settled.

For more information, CME Group staff recently conducted a webinar that dives deeper into the fundamentals and key futures concepts of the new Micro US Treasury contract. Below is a quick summary of the contracts' specifications, which can also be found in the SER or on the CME website.

Original report published on CME Group.
Neither futures trading nor swaps trading are suitable for all investors, and each involves the risk of loss.  Swaps trading should only be undertaken by investors who are Eligible Contract Participants (ECPs) within the meaning of Section 1a(18) of the Commodity Exchange Act.  Futures and swaps each are leveraged investments and, because only a percentage of a contract's value is required to trade, it is possible to lose more than the amount of money deposited for either a futures or swaps position.  Therefore, traders should only use funds that they can afford to lose without affecting their lifestyles and only a portion of those funds should be devoted to any one trade because traders cannot expect to profit on every trade.
CME Group, the Globe Logo, CME, Globex, E-Mini, CME Direct, CME DataMine and Chicago Mercantile Exchange are trademarks of Chicago Mercantile Exchange Inc.  CBOT is a trademark of the Board of Trade of the City of Chicago, Inc.  NYMEX is a trademark of New York Mercantile Exchange, Inc.  COMEX is a trademark of Commodity Exchange, Inc. All other trademarks are the property of their respective owners.
The information within this communication has been compiled by CME Group for general purposes only. CME Group assumes no responsibility for any errors or omissions. Additionally, all examples in this communication are hypothetical situations, used for explanation purposes only, and should not be considered investment advice or the results of actual market experience.  All matters pertaining to rules and specifications herein are made subject to and superseded by official CME, CBOT, NYMEX and COMEX rules. Current rules should be consulted in all cases concerning contract specifications.
Copyright © 2021 CME Group Inc. All rights reserved