Corn and Soybean New Crop Weekly options posted an ADV of 44 contracts in Feb and open interest approaching 500. Streaming quotes are available on Globex. Week 5 options expire Friday March 31st, aligning New Crop coverage to the USDA's Prospective Planting report.
Soybean Oil Weekly options joined the party, posting an all-time ADV record of 168 contracts in February and closing the month out with 1,188 contracts of open interest. This complements Soybean Meal Weekly options, setting ADV records in 2023 as the market navigates South American weather issues.
Feeder Cattle options are active with back-to-back months over 2.5K ADV as ranchers cull herd numbers given high input costs.
On the day of Prospective Planting last year, Weekly options traded over 21k contracts. Short-Dated New Crop options traded 32K contracts as markets reacted to the report and adjusted new crop/old crop positions.
| | | |
| --- | --- | --- |
| OPTION PRODUCT | FEBRUARY ADV | YEAR/YEAR % CHANGE |
| CORN | 72,945 | -38% |
| SOYBEAN | 46,480 | -63% |
| CHICAGO SRW WHEAT | 35,777 | -13% |
| SOYBEAN MEAL | 18,486 | -4% |
| HOGS | 12,757 | -21% |
| SOYBEAN OIL | 14,793 | 8% |
| LIVE CATTLE | 11,981 | 10% |
| AG WEEKLY OPTION | 6,688 | -30% |
| SHORT-DATED NEW CROP OPTION | 4,112 | -55% |
| KC HRW WHEAT | 2,890 | -47% |
| FEEDER CATTLE | 2,502 | 38% |
| CALENDAR SPREAD OPTION | 1,964 | -16% |
| | | | |
| --- | --- | --- | --- |
| | WEEKLY OPTIONS | SHORT-DATED NEW CROP OPTIONS | NEW CROP WEEKLY OPTIONS |
| | FEB ADV | FEB ADV | FEB ADV |
| CORN | 2,553 | 3,271 | 43 |
| SOYBEAN | 2,103 | 840 | 2 |
| CHICAGO SRW WHEAT | 1,368 | | |
| SOYBEAN MEAL | 497 | | |
| SOYBEAN OIL | 168 | | |
Planting intention activity – Last year, Corn planned acreage came in well below market expectations, causing December new crop futures to rally 27 cents. May futures increased, but not as dramatically, causing the May/Dec futures spread to narrow 17 cents. Market participants utilized Weekly options based on the May contract and Short-Dated New Crop options in great fashion to manage the market reaction. This year, New Crop Weekly options will be available as another tool to help manage direct impacts to December Corn and November Soybeans on the day of the report.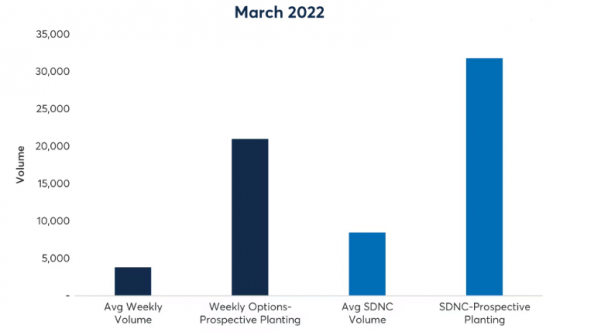 Soybean Meal and Oil Weekly options – Given the importance of biodiesel, the Soybean complex has grown in importance in managing risk. With ongoing weather concerns in South America, market participants are helping manage short-term risk in Soybeans, Soybean Meal, and Soybean Oil. Similar strategies deployed in Corn weeklies to help manage input costs are now being deployed via Meal and Oil weekly options.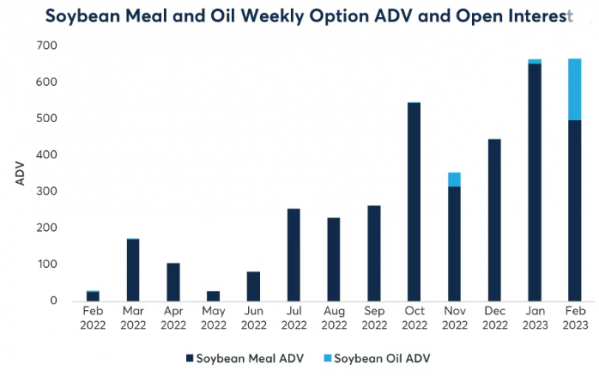 Feeder Cattle options – Feeder Cattle volatility has been trending downward since June, with 30-day volatility trading around 10% in 2023 as market participants ramp up option activity as futures hit eight-year highs.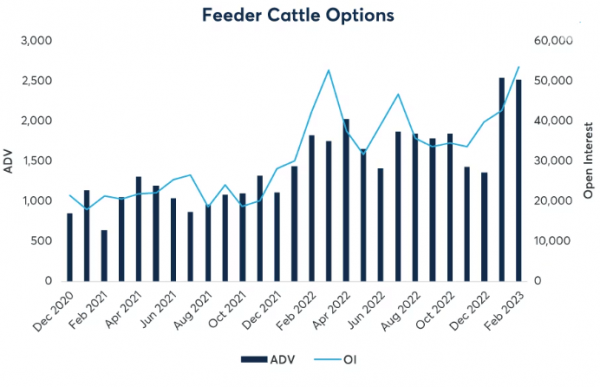 Original report published on CME Group.
Neither futures trading nor swaps trading are suitable for all investors, and each involves the risk of loss.  Swaps trading should only be undertaken by investors who are Eligible Contract Participants (ECPs) within the meaning of Section 1a(18) of the Commodity Exchange Act.  Futures and swaps each are leveraged investments and, because only a percentage of a contract's value is required to trade, it is possible to lose more than the amount of money deposited for either a futures or swaps position.  Therefore, traders should only use funds that they can afford to lose without affecting their lifestyles and only a portion of those funds should be devoted to any one trade because traders cannot expect to profit on every trade.
CME Group, the Globe Logo, CME, Globex, E-Mini, CME Direct, CME DataMine and Chicago Mercantile Exchange are trademarks of Chicago Mercantile Exchange Inc.  CBOT is a trademark of the Board of Trade of the City of Chicago, Inc.  NYMEX is a trademark of New York Mercantile Exchange, Inc.  COMEX is a trademark of Commodity Exchange, Inc. All other trademarks are the property of their respective owners.
The information within this communication has been compiled by CME Group for general purposes only. CME Group assumes no responsibility for any errors or omissions. Additionally, all examples in this communication are hypothetical situations, used for explanation purposes only, and should not be considered investment advice or the results of actual market experience.  All matters pertaining to rules and specifications herein are made subject to and superseded by official CME, CBOT, NYMEX and COMEX rules. Current rules should be consulted in all cases concerning contract specifications.
Copyright © 2023 CME Group Inc. All rights reserved