Exports increasingly important to currency considerations
Exports of goods and services are becoming increasingly important. They account for over a quarter of global GDP, having comprised just 10% in 1970. For some nations, exports are concentrated on a few commodities. For example, Australia sees 45% of its export's income come directly through the trade of iron ore and coal. Countries such as Australia, and consequently their currencies, prosper when the value of commodities rise.
In contrast, countries with a trade deficit typically struggle when commodity prices rise because they must pay more for their imports. As a result, their currency depreciates so their exports can, in turn, become more attractive to foreign partners.
Commodities considerable driver of FX price action over past year
Accordingly, last year's commodity price strength was a big challenge for nations with a trade deficit. CME Group Commodity Index spent portions of the year having returned +50% since 1 January while never closing the day lower than it started the year. Russia's invasion of Ukraine meant energy commodities experienced the strongest rally; Brent Crude at one stage surpassed 60% returns for the year while Natural Gas reached triple-digit appreciation. Unsurprisingly, in these periods, AUD and NOK saw the largest appreciations against the USD in G10 (Chart 1).
However, CME Group Commodity Index has been falling since June 2022. That means the currencies that previously outperformed have come under fire as commodity prices returned to a more sustainable level. Meanwhile, currencies such as CHF and EUR have recovered.
Hedging commodities with FX
Both scenarios demonstrate why it can be effective for investors to consider underlying FX relationships when investing in commodities. Had an investor believed Brent Crude would appreciate past June 2022 to date, they would have lost 36%. However, had that same investor been long CME Group Brent Crude futures and long CME Group CHF/USD futures, the loss would have been around 26%.
Using the CME Group Cross-Asset Correlation Tool, we find that NOK and CAD are most correlated to Brent Crude; GBP and SEK are most correlated to copper; NZD and JPY are most correlated to gold (Chart 2).
This suggests investors who are positioned for Brent Crude prices to rise again could hedge by being short CME Group NOK/USD or CAD/USD futures. They could do likewise for CME Group GBP/USD and SEK/USD futures for copper, and CME Group NZD/USD and JPY/USD futures for gold.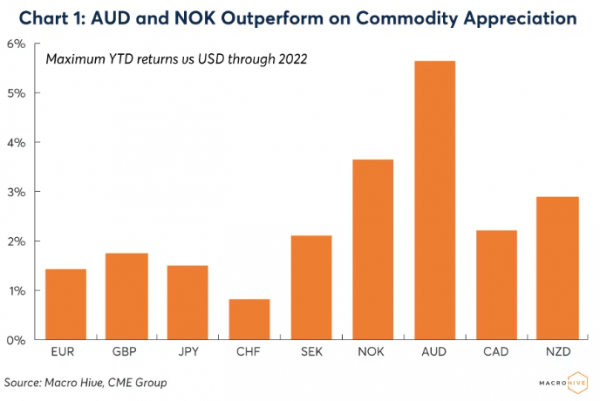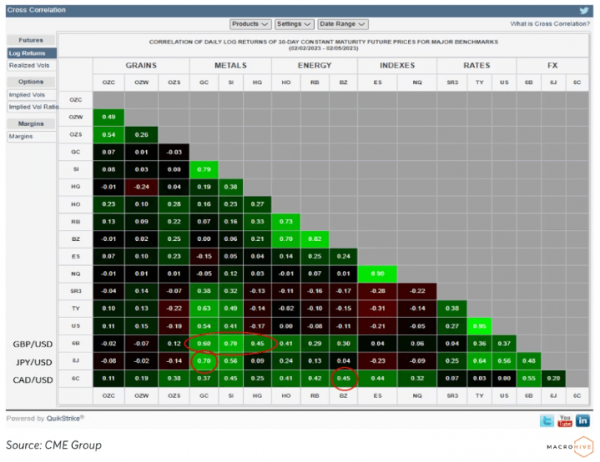 Original report published on CME Group.
Neither futures trading nor swaps trading are suitable for all investors, and each involves the risk of loss.  Swaps trading should only be undertaken by investors who are Eligible Contract Participants (ECPs) within the meaning of Section 1a(18) of the Commodity Exchange Act.  Futures and swaps each are leveraged investments and, because only a percentage of a contract's value is required to trade, it is possible to lose more than the amount of money deposited for either a futures or swaps position.  Therefore, traders should only use funds that they can afford to lose without affecting their lifestyles and only a portion of those funds should be devoted to any one trade because traders cannot expect to profit on every trade.
CME Group, the Globe Logo, CME, Globex, E-Mini, CME Direct, CME DataMine and Chicago Mercantile Exchange are trademarks of Chicago Mercantile Exchange Inc.  CBOT is a trademark of the Board of Trade of the City of Chicago, Inc.  NYMEX is a trademark of New York Mercantile Exchange, Inc.  COMEX is a trademark of Commodity Exchange, Inc. All other trademarks are the property of their respective owners.
The information within this communication has been compiled by CME Group for general purposes only. CME Group assumes no responsibility for any errors or omissions. Additionally, all examples in this communication are hypothetical situations, used for explanation purposes only, and should not be considered investment advice or the results of actual market experience.  All matters pertaining to rules and specifications herein are made subject to and superseded by official CME, CBOT, NYMEX and COMEX rules. Current rules should be consulted in all cases concerning contract specifications.
Copyright © 2023 CME Group Inc. All rights reserved