A major export hub in New Orleans has been hit hard by Hurricane Ida, which could bring significant disruptions in the area. The storm Surge and winds were so intense, they temporarily stopped the flow of the Mississippi river near New Orleans and caused it to reverse. With uncertainty in the market over the longer-term effects of Hurricane Ida and the upcoming WASDE report on Sept 10th, short term options have become an even more effective tool. Weekly Options +90% YoY with week 2 options expiring on the same day as the WASDE.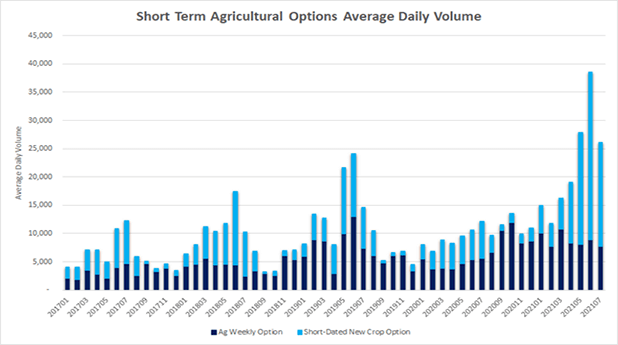 CME Group Global Aluminum Futures (ALI) average daily volume for the first time surpassed 1,000 contracts in a month. The top 5 volume months in ALI have all come in Q2 and Q3 of 2021, and orderbook liquidity continues to show improvement in both depth and bid/ask spread (see chart below). Aluminum usage continues to grow, especially alongside the green revolution, and investors have piled in, sending prices to decade-highs. Read more about our full suite of Aluminum products, including ALI, here.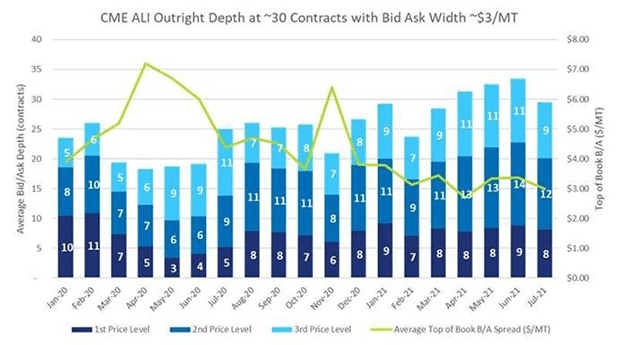 The Russell 2000 Index, which consists of the lower ~2,000 small-cap stocks in the Russell 300 Index, product suite has seen considerable growth in 2021. E-mini and Micro E-mini Russell 2000 futures August ADV is 167.2K (+21% vs. August 2020) and 125.6K (+67% vs. August 2020), respectively. E-mini Russell 2000 options YTD ADV is 1,360 (+49% vs. 2020), monthly options ADV is 973 (+112% vs. 2020) and weekly options ADV is 3,394 (121% vs. 2020).  Adjusted Interest Rate (AIR) Total Return futures were recently launched on the Russell 2000 Index and Russell 1000 Index, learn more here.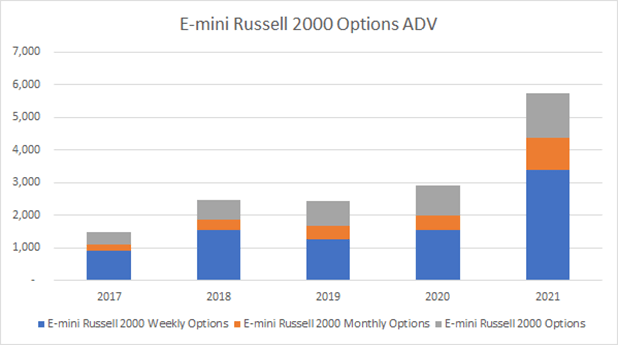 This week begins the first week of the September 2021 roll period for FX futures. Ahead of the roll, according to the CFTC as of August 24, 2021, asset managers and leveraged funds were holding record gross notional open interest positions across several currency pairs, with asset managers holding an all-time record gross notional of $146.6bn across the CME FX futures complex and a record gross notional of $135bn in the G10 FX future pairs. Additionally, there are now 1,256 customers holding large open interest positions in CME FX futures (+14.3% year on year). For daily updates on roll activity and progress compared to previous rolls, see the FX Pace of the Roll tool.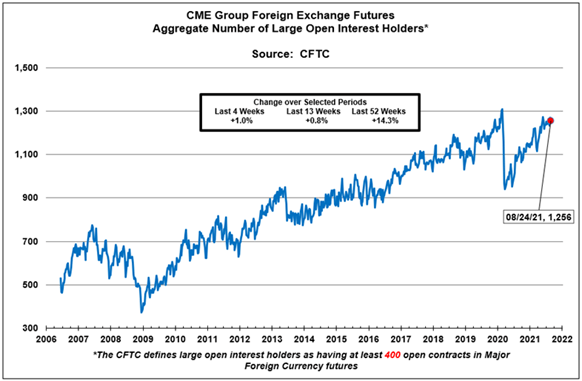 Micro Treasury Yield Futures Take Off
In the two weeks since launch, Micro Treasury Yield Futures volume has surged, with over 25,000 contracts trading on Friday, August 27th. Volume has traded across all tenors, with activity particularly strong in the 10-Year Yield Futures.  Micro Treasury Yield Futures are quoted in simple yield terms and cash-settled, providing a new, simplified way of trading Treasury yield curve exposure.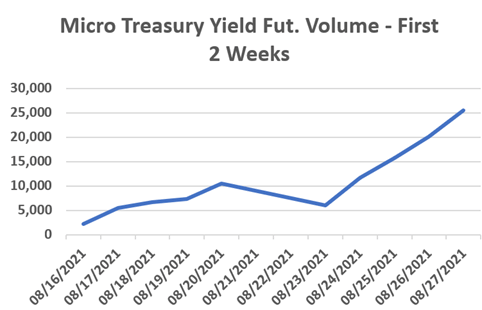 BSBY Futures Show Robust Liquidity
Just 1 week from launch, BSBY Futures are strongly liquid, with several hundred contracts at Top of Book, often 1-2 minimum ticks wide in the Whites and Reds.
Futures on BSBY, a credit-sensitive, forward-looking rate, bring enhanced risk management activity to CME STIR markets.

Traders are preparing for a busy Winter trading season in Henry Hub financial nat gas options (symbol LN). Despite 30-day implied volatility down 20 points on average YTD from this point last year – the number of professional traders active on-screen in Henry Hub options has increased by 20% from both EMEA and North America. Aug MTD ADV in Henry Hub financial options of 116,000 is on pace to be the highest ever for an August calendar month – August is historically a slow trading month, indicating traders are managing Winter positions much earlier than usual.
Several key indicators are pointing to potential volatility in the Henry Hub Winter trading season
US Natural Gas Inventory
Lower 48 nat gas inventories trending lower and divergence to 5 years average is increasing with ~70 days left in the storage injections season.  Global prices are demanding max exports of US LNG. (source EIA)
180-day ATM Implied Volatility
The 180-day ATM implied volatility, which points right in between the Feb and March contracts, is the highest in the past 10 years at nearly 60% ATM implied vol.  Compare that to the ATM IV in the October contract which is around 37% (source QuikStrike QuikVol Tool)
Winter Season (Nov21-Mar22) Options Open Interest
With more than 40 days until the Summer to Winter expiration roll, Nov21-Mar22 Henry Hub financial options OI is 775,000 contracts – the highest since 2017
CME Globex is the most liquid venue for trading outrights and strategies in Henry Hub financial options (LN)
65% of all volume August MTD has been executed on-screen– over 75,000 lots/day
2/3rdof all screen volume MTD has been executed as an RFQ strategy – nearly 50,000 lots/day
CME Direct has become the #1 volume front-end platform for traders executing Henry Hub options on-screen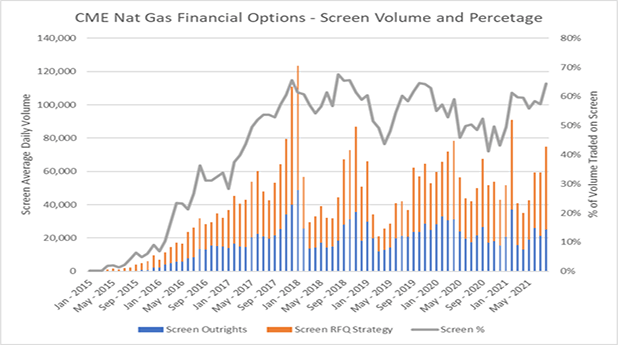 Original report published on CME Group.
Neither futures trading nor swaps trading are suitable for all investors, and each involves the risk of loss.  Swaps trading should only be undertaken by investors who are Eligible Contract Participants (ECPs) within the meaning of Section 1a(18) of the Commodity Exchange Act.  Futures and swaps each are leveraged investments and, because only a percentage of a contract's value is required to trade, it is possible to lose more than the amount of money deposited for either a futures or swaps position.  Therefore, traders should only use funds that they can afford to lose without affecting their lifestyles and only a portion of those funds should be devoted to any one trade because traders cannot expect to profit on every trade.
CME Group, the Globe Logo, CME, Globex, E-Mini, CME Direct, CME DataMine and Chicago Mercantile Exchange are trademarks of Chicago Mercantile Exchange Inc.  CBOT is a trademark of the Board of Trade of the City of Chicago, Inc.  NYMEX is a trademark of New York Mercantile Exchange, Inc.  COMEX is a trademark of Commodity Exchange, Inc. All other trademarks are the property of their respective owners.
The information within this communication has been compiled by CME Group for general purposes only. CME Group assumes no responsibility for any errors or omissions. Additionally, all examples in this communication are hypothetical situations, used for explanation purposes only, and should not be considered investment advice or the results of actual market experience.  All matters pertaining to rules and specifications herein are made subject to and superseded by official CME, CBOT, NYMEX and COMEX rules. Current rules should be consulted in all cases concerning contract specifications.
Copyright © 2021 CME Group Inc. All rights reserved