Erik Norland's latest video examines pricing data to show that investors are optimistic that soaring inflation and rising prices for a range of commodities, from corn to crude oil, could be reined in this year as the Fed moves to hike borrowing costs.  Investors are expecting inflation at 3.5% this year, down from 7% in 2021, and for dividends to grow by 5.5% in 2022. What else are investors expecting for 2022? Find out here.
Latest FedWatch Tool Projections Show 72% Chance of 4 or More Rate Hikes by End of 2022
In response to growing inflation, the Fed has communicated its intention to raise the FOMC target rate throughout 2022. As seen below, recent projections from the CME FedWatch tool show a 72% chance of 4 or more FOMC rate hikes by the end of 2022. Amid uncertainty surrounding the timing and quantity of these rate hikes, market participants are managing risk across CME's Interest Rate futures and options suite.  CME's FedWatch tool offers market participants an easy comparison of the FOMC's stated projections against those priced into the futures market.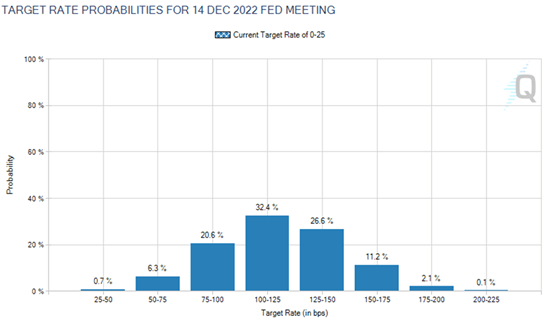 Average daily volumes and open interest in WTI Crude Oil Weekly Options (LO1-LO5) saw significant growth throughout 2021.
Weekly products provide traders with more options and expirations which lead to more effective risk management strategies.  CME provides several weekly option products on liquid energy futures contracts. Further information on available energy weekly options can be found here.
Key Crude Oil Weekly Options highlights from 2021 include:
Record volume in 2021 with over 4,000 lots traded per day
Daily volume in Q4 averaged over 5,500 lots traded per day
Record average daily OI in 2021 of 9,176 lots
Since introducing 0.25 increment strike prices, over 100,000 lots have traded in 0.25 or 0.75 increments
Single day volume record of 19,865 was on 26 November 2021
Weeklies volume from Commercial Hedging firms was up over 150% in 2021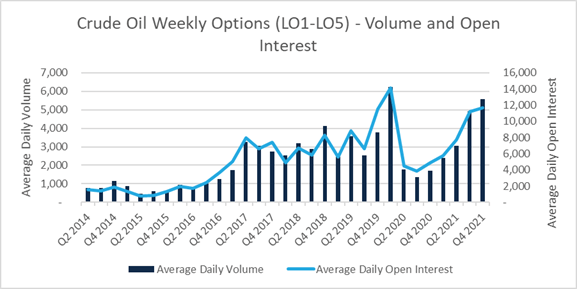 E-mini Nasdaq-100 options will become block eligible on January 24th pending regulatory review.
The minimum block quantity will be 60 option contracts per leg, and NQ futures can be added to options trades for covering delta exposures.  While each leg of an option spread must satisfy the minimum block quantity, futures covering NQ options transactions are not subject to a minimum, provided that the delta is approximately equal to and opposite the net delta of an option trade.
Additional QN3 expiry: The additional Week 3 European style PM option expiry will bring the number of Week 3 expiries to three consecutively listed.  Please note that this expiry type is now eligible for listing on the quarterly date.   Now hedge intraday risk post futures AM expiry on the quarterly dates. This expiry type is now eligible for listing on the quarterly date.
A December full of central bank data and decisions, combined with year-end pressures, pushed FX markets liquidity to a premium at the end of 2021. Any change in the implied funding of the USD and foreign currencies over the year end impacts the cross currency basis and can cause some pronounced movements in FX swap pricing. This can be seen below in EURUSD, where the implied rate differential – as calculated using data from CME FX Link – fell 12 basis points (from 0.85% to 0.73%) as the year came to a close.
Launch CME Group's FX Swap Rate Monitor to see where other implied interest rate differentials stand for eight major currency pairs and gain transparency into the FX swap market.
In Q4, 2021, CME USD Palm Oil volumes achieved an all-time record of 76,026 contracts, surpassing the previous record quarter Q2 2021.  For the year, 2021 volumes represent a record year with 213,436 contracts cleared, representing an average daily volume of 847 contracts. Open Interest at the end of 2021 stood at 51,581 contracts, or 1.28m tons of palm oil, up 118% from the end of 2020 (O.I. 23,728 contracts), reflecting increased user interest & activity.
Prices in the CME USD Palm stayed volatile in December, dipping in the first half of December before recovering most of the ground by the end of the month.  The CBOT Soybean Oil – CME Palm Oil active month spread, reflecting the relative value between two of the world's biggest edible oils, hit a $500 summer high, as Soybean Oil fundamentals turned slightly friendlier. In contrast, in recent weeks, Palm Oil supplies tightened, and demand increased, leading to the spread retracing to the mid $100s.  Spread Open Interest extends till Jan 2023 with international participation. Additional information can be found at www.cmegroup.com/palm.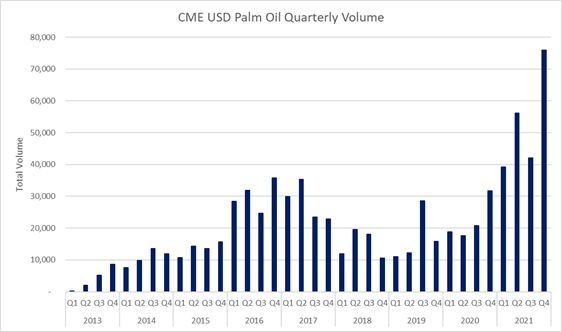 COMEX Steel Suite had its fifth consecutive record year in volume
More than 22k tons ($30 million notional) of steel traded per day on COMEX in 2021. Open Interest also reached all-time high peeking above $1.4 billion notional at year-end.  While U.S. Midwest HRC futures remain the most widely traded contract in the suite (87% of overall COMEX Steel volume in 2021), there was also strong growth in European HRC (2021 volume +116% YoY) and U.S Midwest HRC Options (+260% YoY).
Outsized growth of participants trading COMEX Steel products
The number of participants in COMEX Steel markets almost doubled from 2020 to 2021.  With steel price action and volatility at historical highs, COMEX Steel risk management tools have become increasingly more relevant to the steel market. The range of steel products COMEX offers allows participants not only to hedge their physical exposure, but also to express views across regions and along the supply chain. Read more in the COMEX Steel Product Suite Overview.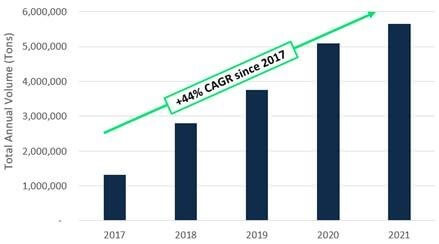 HRC regional arb' opportunities on COMEX
In 2021, international HRC prices could not keep up with the rally in US MW HRC– with the US MW HRC spot premium over European HRC (EHR) peaking at above 600 $/st in November.  The premium has now come down to about ~ 300 $/st – and forward pricing shows a further tightening and a reversal of the premium by Q3'22, with EHR Q3'22 currently valued slightly above US MW HRC.  Regional supply and demand fundamentals will continue to drive the spread. Starting in January, the Biden administration is replacing section 232 steel tariffs on EU imports with a quota system, which could mean more steel exports from the EU into the U.S.  With paper activity on the rise in both these markets, COMEX traders have an efficient venue to trade the spread between international steel prices.
Original report published on CME Group.
Neither futures trading nor swaps trading are suitable for all investors, and each involves the risk of loss.  Swaps trading should only be undertaken by investors who are Eligible Contract Participants (ECPs) within the meaning of Section 1a(18) of the Commodity Exchange Act.  Futures and swaps each are leveraged investments and, because only a percentage of a contract's value is required to trade, it is possible to lose more than the amount of money deposited for either a futures or swaps position.  Therefore, traders should only use funds that they can afford to lose without affecting their lifestyles and only a portion of those funds should be devoted to any one trade because traders cannot expect to profit on every trade.
CME Group, the Globe Logo, CME, Globex, E-Mini, CME Direct, CME DataMine and Chicago Mercantile Exchange are trademarks of Chicago Mercantile Exchange Inc.  CBOT is a trademark of the Board of Trade of the City of Chicago, Inc.  NYMEX is a trademark of New York Mercantile Exchange, Inc.  COMEX is a trademark of Commodity Exchange, Inc. All other trademarks are the property of their respective owners.
The information within this communication has been compiled by CME Group for general purposes only. CME Group assumes no responsibility for any errors or omissions. Additionally, all examples in this communication are hypothetical situations, used for explanation purposes only, and should not be considered investment advice or the results of actual market experience.  All matters pertaining to rules and specifications herein are made subject to and superseded by official CME, CBOT, NYMEX and COMEX rules. Current rules should be consulted in all cases concerning contract specifications.
Copyright © 2022 CME Group Inc. All rights reserved