Interest rate futures, OTC and Benchmarks insights – Q1 2022
We are pleased to provide the ASX Rates Highlights Q1 report and the full chart pack for the period January to March 2022.
The chart pack includes the roll volumes for ASX Interest Rates Derivatives – 3's, 5's, 10's and 20's futures by volume, session and open interest.
DOWNLOAD FULL CHART PACK >
At its April meeting, the RBA struck a more upbeat tone by removing key language from its statement that it was 'prepared to be patient' in monitoring the evolution of inflation in Australia. The market took this as a signal that the RBA may be prepared to increase rates sooner than previously acknowledged. The short end sold off in response with parts of the curve down as much as 25bps on the day.
Interest rate futures Q1 2022
Rates futures volumes were down 2.8% vs Q4 2021 and 15% when compared to the same period last year (Q1 2021). Total Open Interest was 2,897,167 contracts as at the end of the quarter, down 2.3% vs the end of Q4 2021 and down 2% when compared to the same period last year (Q1 2021).
Global bond markets sold off in Q1 as inflation pressure added to speculation around the extent and pace of future interest rate rises. In March, the Federal Reserve increased their headline interest rate for the first time since 2018 to 0.5% and signaled aggressive tightening for the remainder of 2022. The US market is currently pricing in a 50bp increase for May and expect the headline rate to reach 2.25-2.5% by the end of the year. Markets in the UK, Canada and New Zealand are pricing in a similar trajectory with headline rates all expected to be above 2% by the end of the year.
The March roll market was orderly, trading in a 1.4bps and 0.8bps range respectively in the 3 and 10 year futures.
3 year roll activity was 4% lower in March (961,000) vs December (1 million) despite Open Interest being up 17% going into the roll vs December.
10 year roll activity was 12% lower in March (1.44 million) vs December (1.63 million) with Open Interest 11% lower going into the roll vs December.
Global AUD OTC swap volumes grew substantially between Q4 2021 vs Q1 2022 as result of substantial growth in shorter-dated interest rate swap and OIS volumes. ASX's OTC Clearing service has recorded total notional cleared of A$1.25 trillion in Q1 2022, up 62% vs pcp.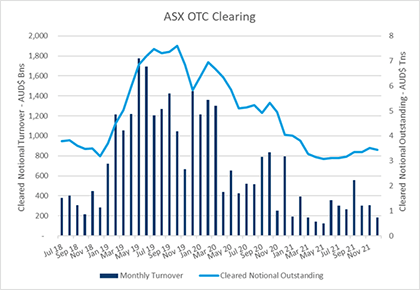 $1.25 trillion
Total notional cleared in Q1 2022.
↑ 62% vs PCP
2.09 years
Weighted Average Maturity of ASX Cleared OTC swaps.
Remaining above the long running average despite recent growth in shorter-dated interest rate swaps and OIS activity.
50%
Average Cross-Margining benefit across users of ASX's Margin Optimisation Service. Automated Futures vs OTC Cross Margining.