Lean Hog futures have been rallying for the past five months until April. The Lean Hog call skew has been slowly strengthening since October, which was indicated by the CVOL Skew Index and spiked further in the face of April's decline.
December Corn futures hit all-time highs for April, December 22 options open interest is building and the put/call ratio is increasing indicating more traders establishing put positions relative to calls compared to earlier in the year.
Soybean Oil futures hit all-time highs this April, even with the given global supply situation, but implied volatility is staying somewhat muted compared to early March.
Short Dated New Crop options (ADV 14K/ OI 190K) and Calendar Spread options (ADV 2.7K ADV/OI 111K) posted record volume and open interest for April given current spread market dynamics.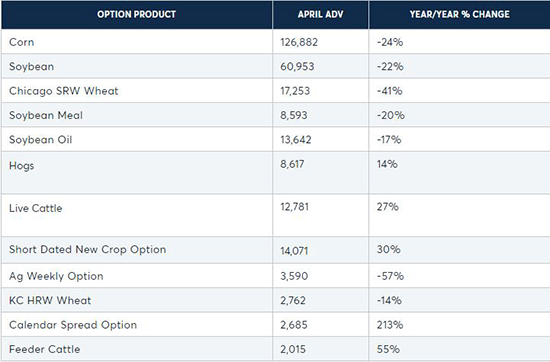 Lean Hogs – The purple line is showing Skew for Lean Hogs going from -9 to +1 over the last six months.  The Skew Index looks at Up Side skew (out of the money calls) minus Down Side skew (out of the money puts), so a more positive number shows strength to upside volatility.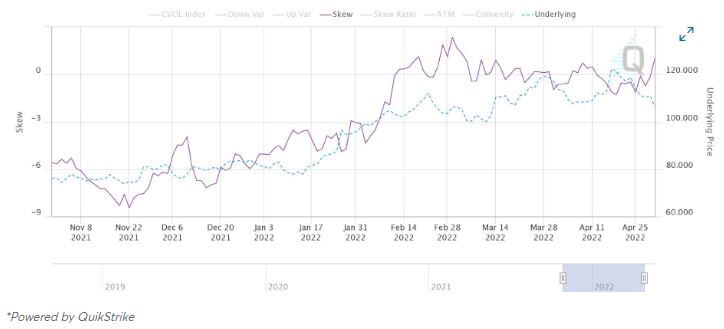 December Corn – Starting in 2022, standard December options had a little over 100K contracts outstanding, 70K being calls and 40K being puts. At the end of April, close to 700K contracts are outstanding with ~400K being calls and ~285K being puts. A put/call ratio below one represents more calls than puts outstanding, as the ratio approaches one, more put positions are being established versus calls.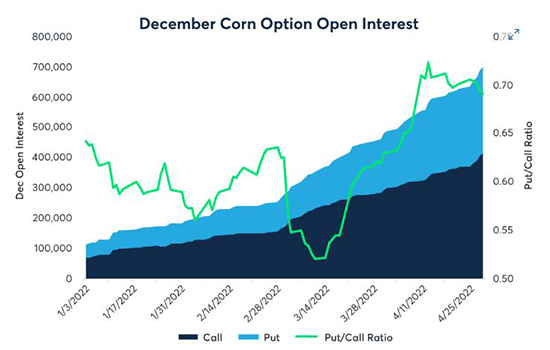 December Corn – Overlaying December futures price with the put/call ratio can help show where market participants are establishing option positions given price movements.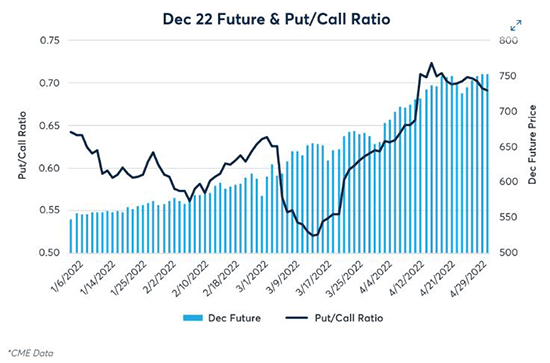 Soybean Oil – Looking at the CVOL Index for Soybean Oil (SOVL) you see a peak volatility of 52 on March 4, then at the end of April, the index is trading around 33 with futures contracts trading at all-time highs (dotted line).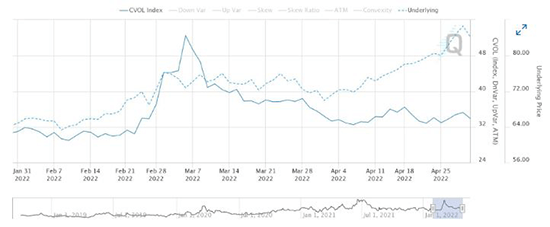 Calendar Spread (CSO's) & Short Dated New Crop (SDNC) options – Given the large swings in futures spreads and increased liquidity, record volume and open interest occurred for April as market participants look to manage spread risk and New Crop exposure through options.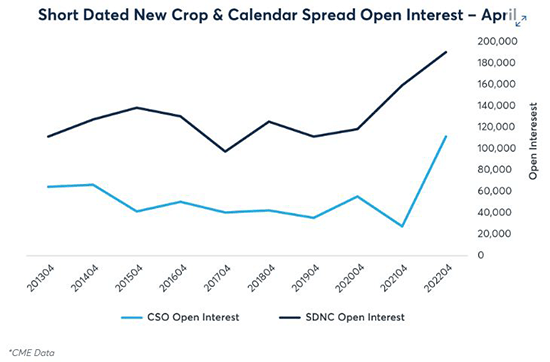 Original report published on CME Group.
Neither futures trading nor swaps trading are suitable for all investors, and each involves the risk of loss.  Swaps trading should only be undertaken by investors who are Eligible Contract Participants (ECPs) within the meaning of Section 1a(18) of the Commodity Exchange Act.  Futures and swaps each are leveraged investments and, because only a percentage of a contract's value is required to trade, it is possible to lose more than the amount of money deposited for either a futures or swaps position.  Therefore, traders should only use funds that they can afford to lose without affecting their lifestyles and only a portion of those funds should be devoted to any one trade because traders cannot expect to profit on every trade.
CME Group, the Globe Logo, CME, Globex, E-Mini, CME Direct, CME DataMine and Chicago Mercantile Exchange are trademarks of Chicago Mercantile Exchange Inc.  CBOT is a trademark of the Board of Trade of the City of Chicago, Inc.  NYMEX is a trademark of New York Mercantile Exchange, Inc.  COMEX is a trademark of Commodity Exchange, Inc. All other trademarks are the property of their respective owners.
The information within this communication has been compiled by CME Group for general purposes only. CME Group assumes no responsibility for any errors or omissions. Additionally, all examples in this communication are hypothetical situations, used for explanation purposes only, and should not be considered investment advice or the results of actual market experience.  All matters pertaining to rules and specifications herein are made subject to and superseded by official CME, CBOT, NYMEX and COMEX rules. Current rules should be consulted in all cases concerning contract specifications.
Copyright © 2022 CME Group Inc. All rights reserved